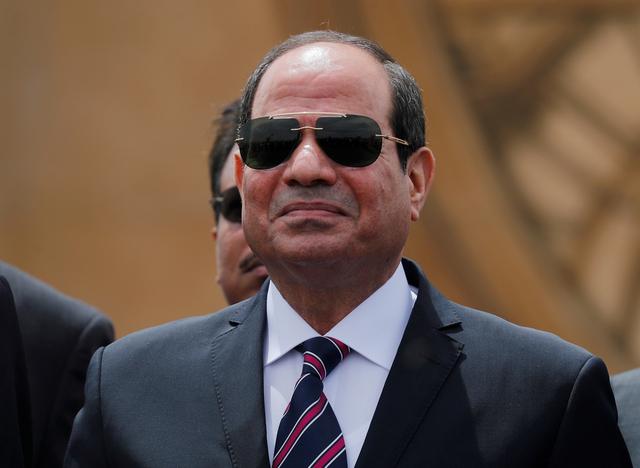 Egyptian President Abdel Fattah al-Sisi announced Sunday that some traffic axes and bridges will be named after Egypt's champions in Tokyo Olympic Games.
During a phone-in with channel One of state TV, Sisi said that all support will be provided to these sports champions who are helping to raise Egypt's reputation.
Feryal Abdelaziz won Egypt the sole gold medal at Olympic Games on Saturday in the women's kumite karate +61kg event.
Egypt won a sliver medal in the modern pentathlon by Ahmed al-Gendy during this year's Olympic Games and four bronze medals through Hedaya Malak and Saif Eissa, players of the national taekwondo team, Mohamed Ibrahim Kisho, national wrestling player, and Giana Farouk, player of the national karate team.
Abdelaziz made history for her country, Sisi said, and gifted her parents a pilgrimage trip to Saudi Arabia.
Sisi revealed that he has been practicing karate since 1970, and said that the sport was his favorite.
The President stressed that the government will pay attention to this sport and others in appreciation of the Egyptian Olympic achievements in winning six medals.
President Sisi addressed Abdelaziz, saying, "You honored us and raised our heads up, all of us, long live Egypt with you."
President Sisi also saluted all the Egyptian families who are working on refining the talents of their children.
Sisi affirmed that Feryal is an honorable rolemodel for all women at her age, and showcased the ability of Egyptians to stand at the highest level in global sports events.
He said that a program has been implemented during the past six years to raise the efficiency of youth centers, which has benefited over 4,000 centers.
Sisi added that the "champion" making project must be worked on by the state, the media, the family and the school.
"When the system works together, by the end we find more than one champion… and we achieve medals," Sisi added, stressing "the need to pay attention to sports, because sport is life."