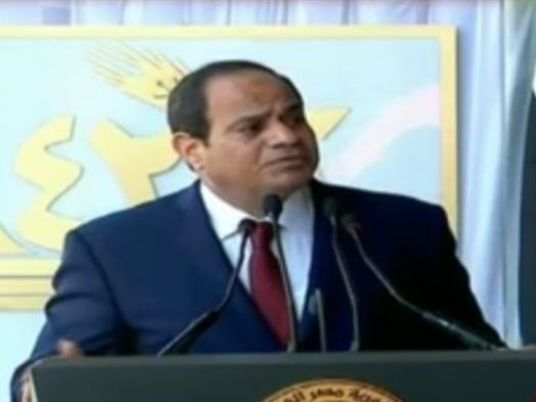 There is really only one possible outcome to Egypt's much-delayed parliamentary election when people begin voting later this month — a body loyal to President Abdel Fattah al-Sisi.
The current mood in the Arab world's most populous nation was evident at an election rally in the southern town of Qena, where candidates showered praise on Sisi who has crushed all opposition since ousting his Islamist predecessor.
Phased voting for Egypt's first parliament since Sisi overthrew Mohamed Morsi in 2013 will be held over six weeks starting on October 17.
"We want a strong parliament that supports the president in achieving his plans to develop the country," said journalist Moustafa Bakri, a candidate for the main For The Love of Egypt coalition, addressing a crowd in Qena.
Sitting on iron chairs in a street lined with red brick buildings, the thousands of men listened to Bakri and other coalition candidates in the town around 650 kilometres (400 miles) south of Cairo.
Assuming the mood there is reflected in the rest of the country, a pro-Sisi parliament is a given.
Experts have already said the election outcome is not in doubt: the new parliament will be dominated by lawmakers loyal to the former army chief who deposed Morsi after mass street protests against the Islamist's year-long rule.
Morsi, Egypt's first freely elected president, came to power after a popular uprising in 2011 ended three decades of rule by veteran strongman Hosni Mubarak.
596 seats at stake
Just weeks after Morsi was ousted, a police crackdown killed hundreds of protesters demanding his reinstatement.
Tens of thousands of Morsi supporters and members of his now banned Muslim Brotherhood movement have been jailed.
Hundreds more including Morsi himself have been sentenced to death after speedy mass trials denounced by the United Nations as "unprecedented in recent history".
The regime installed by Sisi, who was elected president in a May 2014 election boycotted by the Muslim Brotherhood, has also cracked down relentlessly on secular revolutionary youth movements.
And it faces a raging insurgency in the northern Sinai Peninsula where security forces are regularly attacked by Islamic State group jihadists.
Coalitions and "independents" backing Sisi will compete for 596 seats in the new parliament between October 17 and December 2 in a complex voting procedure.
The Muslim Brotherhood may have won all elections it participated in after Mubarak stepped down, but given that it has now been outlawed it is no longer in the picture.
Liberal movements facing severe repression are either poorly represented or are boycotting the poll.
"The president will have no problems with parliament as all the coalitions support him," said Mustapha Kamel Al-Sayyid, political science professor at Cairo University.
He said the coalitions had "rallied to gather former members of the National Democratic Party" of Mubarak whose NDP was dissolved in the wake of his overthrow.
Heavyweight pro-Sisi coalitions
Bakri said his coalition, a group of centre-right parties, businessmen, former ministers and NDP members, aims to control two-thirds of parliament "to keep majority support for the president".
The Egyptian Front led by Ahmed Shafiq — Mubarak's last prime minister — is the other heavyweight pro-Sisi coalition expected to be elected.
"The parliament will not be strong enough to hold the president accountable or debate sensitive issues such as the role of the military in public life or foreign policy," said political analyst Hazem Hosni.
"It will be given some marginal issues to discuss to keep it occupied."
Sisi had pledged early parliamentary elections after ousting Morsi, but these were pushed back several times.
The Salafist Al-Nur party that backed Morsi's removal is the only Islamic party in the running, and it too is openly pro-Sisi.
The chances of secular parties and left-leaning groups "are very low", said secular leader Khaled Daoud, adding that these groups will be fielding around 100 candidates.
In Qena, Sisi supporters are confident of victory.
"This man repaired the country since taking power. We have seen the difference," said Mohammed al-Tayeb who backs For The Love of Egypt.