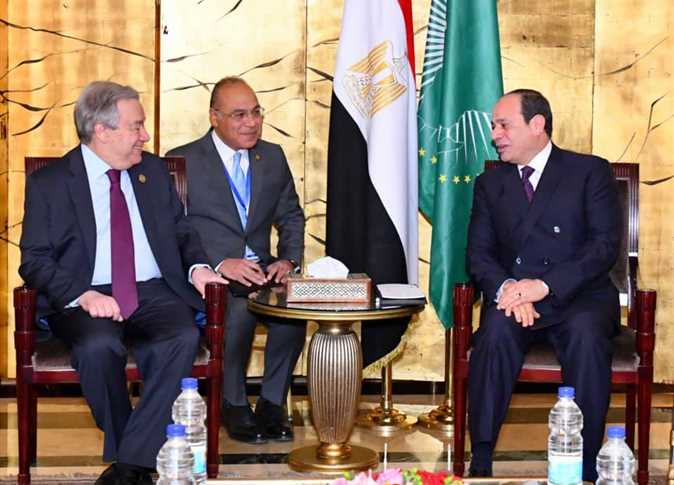 Egyptian President Abdel Fattah al-Sisi met on Sunday with the Secretary-General of the UN Antonio Guterres, at Sisi's residence in the Ethiopian capital Addis Ababa, on the sidelines of the 33rd African Union summit.
The spokesperson for the Egyptian presidency Bassam Rady said that the meeting discussed the latest developments in certain regional issues, particularly Libya, Syria and the peace process in the Middle East.
Sisi stressed the importance of working to implement the Berlin Summit on Libya's commitments, and seek ways to avoid any difficulties or challenges in this regard, stressing the support of the UN's relevant efforts.
The president further stressed on Egypt's keenness to continue strengthening cooperation with the UN's organizations in various fields to support international peace and security, and to coordinate with the UN to enhance its role in addressing priority issues for developing countries.
Sisi also reviewed the objective priorities Egypt pushed forward during its presidency of the African Union, mainly aimed at continuing the progress made in implementing Africa's continental and international development agendas, and promoting regional integration projects.
He further pointed to the achievement of concrete steps on the path of conflict settlement and prevention in various areas of the continent, as well as completing and strengthening Africa's peace and security infrastructure to upgrade the continent's capabilities in maintaining security and stability.
For his part, Guterres praised Egypt's distinguished position in the international work system, expressing his appreciation towards the cooperation between Egypt and the UN and Egypt's effective participation in the organization's various activities.
He also congratulated President Sisi on the efforts and activities made during Egypt's presidency of the African Union, praising the qualitative leap in strengthening and deepening the strategic partnership between the AU and the UN.
Guterres expressed the UN's keenness to strengthen and support cooperation with Egypt in establishing the foundations of peace, stability and development at the region – especially in light of Egypt's pivotal role in Africa and the Middle East, and its continued support for UN reform initiatives in various tracks alongside the large Egyptian contribution to international peacekeeping operations.
Edited translation from Al-Masry Al-Youm