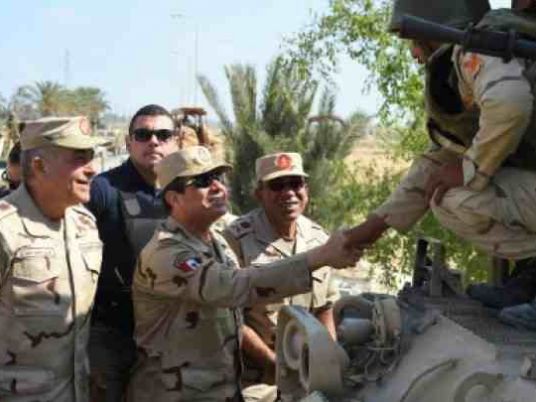 President Abdel Fattah al-Sisi said his government is providing all necessary measures to help residents who have fled Arish, a city in Egypt's North Sinai governorate, after the Islamic State group killed several members of the Christian community.
"[The Copts] are being targeted as a part of a cowardly plot by evil people intended to undermine national unity and confidence in the state… the state is determined to eradicate militants in North Sinai and eliminate terrorism there," the president said, during a surprise visit to young people participating in a presidential youth leadership program, on Monday night.
At least 100 Christian families and students fled North Sinai en masse on Friday, after seven members of the Christian community were killed in less than a month.
On Saturday, the president ordered the government to take action to help provide accommodation for the Copts fleeing. In a meeting held with the prime minister, and the ministers of defense, interior and intelligence, Sisi discussed the "importance of resisting all attempts to sabotage stability and security in Egypt."
Orthodox Copts, who comprise about 10 percent of Egypt's 90 million people, are the Middle East's largest Christian community. They have long complained of persecution.
At the visit to the youth program, Sisi also placed an emphasis on maintaining unity and cohesion as the only way to overcome attempts to "destroy the state." He added that militant violence in North Sinai has taken a toll on Egypt's tourism industry, which is dependent on the country's security and stability.
The latest wave of killings in North Sinai came after the Egyptian affiliate of the Islamic State released a video last week pledging to step up attacks against Christians. In the video, the group claimed responsibility for the Coptic church bombing in December that killed 29 people.
North Sinai has been caught in a crossfire between army and militants since 2013 following the ouster of former Islamist President Mohammed Morsi. The majority of attacks have been carried out by Ansar Bait al-Maqdis, a terrorist organization that has officially pledged allegiance to the Islamic State.