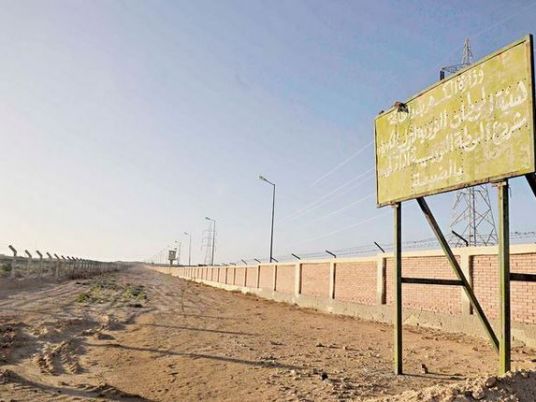 President Abdel Fattah al-Sisi stressed in a meeting Monday that the contracts for the construction of the Dabaa nuclear station should be made ready for signing as soon as possible.
Sisi met Monday with Prime Minister Sherif Ismail, Electricity Minister Mohamed Shaker, and head of the Armed Forces Engineering Authority Major General Kamel al-Wazir.
Shaker shared the outcome of his recent visit to the Russian capital Moscow, where he met with a number of senior officials from the Russian nuclear firm, Rosatom, to discuss the establishment of the nuclear plant in the northern area of Dabaa, said Presidency Spokesperson Alaa Youssef in a statement.
The outcome of talks in Moscow were positive and negotiations over the contract for the plant's construction are in their final stages, according to Shaker.
Egypt has considered building a nuclear power station in Dabaa for several decades, and has been in negotiations with Rosatom since 2015 over plans for the state-owned firm to fund and construct a plant in Egypt for completion by 2022, Reuters reported in November last year.
Shaker travelled to Moscow last week to settle all issues between the two sides before the signing of the contracts. Details of the construction, maintenance and operating of the station, as well as the fuel required to power it, were covered, Al-Masry Al-Youm was informed earlier in June.
Sources from the Nuclear Power Plants Authority, who attended the International Forum ATOMEXPO 2016 in Moscow from May 30 to June 1, revealed that the legal and technical matters that caused the delay in signing the contract had been settled. An Italian consultancy firm revised the contract terms, they added.
Speaking to Al-Masry Al-Youm last week, Rosatom General Director Sergei Kiriyenko said that in order for the agreement with Egypt to be finalized, numerous matters had to be covered, such as the nuclear fuel supply to the reactors, the role of both sides during the operation, maintenance and repair of reactors, methods of treating nuclear waste, training the plant's workers and the improvement of standards and legislation within Egypt's nuclear energy and nuclear infrastructure sectors.
Although the disposal of nuclear waste remains the biggest challenge, Kiriyenko said Rosatom ensures countries comply with proper methods of waste disposal and staff training through the signing of contracts.
The nuclear power station in Dabaa is the biggest joint project between Egypt and Russia since the construction of the High Dam in Aswan, according to Kiriyenko. Egypt will be the only country in the region to own an advanced nuclear power station.