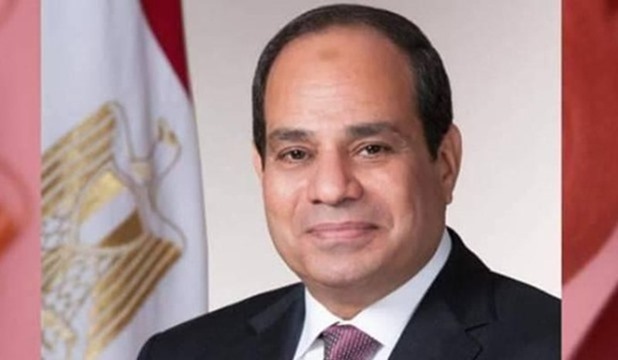 President Abdel Fattah El Sisi asserted on Wednesday his visit to India came in response to an invitation he received from Indian Prime Minister Narendra Modi to participate in celebrations on the Republic Day.
Addressing a press conference with Modi in the Indian capital New Delehi after signing a number of joint agreements, President Sisi thanked the Indian premier for his invitation, hospitality and generous reception, which, he said reflected sisterly and profound relations binding the two countries and nations.
This year, we celebrate the 75th anniversary of establishing Egypt-India ties, according to the president.
President Abdel Fattah El Sisi said talks with Indian Prime Minister Narendra Modi tackled the level of bilateral ties in the trade, investment and defense domains.
President Sisi said he and the Indian premier underscored the importance of maintaining work to up the volume of trade exchange and capitalizing on production and exportation abilities and advantages of the two countries, with a view to responding to economic and social priorities of both Egyptian and Indian peoples and measures taken by the government to stimulate foreign investments.
President Sisi said he is looking forward to increasing Indian investments in Egypt in the various fields, with special focus on the Suez Canal Economic Zone.
He further mentioned that Egypt shared viewpoints with the Indian side on maximizing cooperation on all fronts and making more partnerships in new areas, including cooperation in new and renewable energy and green hydrogen production.
Egypt and India agreed on fostering strategic cooperation in several domains, covering agriculture, higher education, chemicals, fertilizers, medications and IT, the Egyptian president said.
President Sisi affirmed the significance of assessing regular channels for exchanging experiences and knowledge regarding successful experiments and initiatives in the two countries, particularly the file of developing local industry and small and medium-sized projects and providing decent life for citizens.
The Egyptian leader said he asserted to the Indian premier that the country is fully welcoming the flow of more Indian tourists to Egypt.
President Sisi pointed out that cooperation in defense domains figured high on the agenda of the talks, saying the two countries stressed maintaining coordination, joint exercises and swap of expertise, in addition to tapping additional horizons for cooperation.
President Sisi said that the talks dwelt on the optimum ways of combating terrorism and extremist thought.
Egypt and India have a common vision in this regard that joint cooperation will help uproot violence, which is posing threats to all countries worldwide and not only Egypt and India, added the Egyptian president.
He went on to say that an agreement was reached on the need of promoting cooperation in security field and giving momentum to further coordination in this vital sector.
"No development can be attained without security stability," according to him.
President Sisi further thanked the Indian prime minister for inviting Egypt to attend Group 20 meeting under the Indian presidency for 2023.
He said he affirmed to the Indian premier Egypt spares no effort to go ahead with talks on the right track to achieve aspirations of countries of the south.
That will mainly contribute to reaching active ways to face crises of energy, climate change and shortage of foodstuffs and finance in order to achieve development,
President Sisi said.
He affirmed Egypt is prioritizing such issues to restore stability and balance to the international economic environment.
President Sisi said the talks tackled the need of promoting relations binding Egypt and India to a strategic level.
The two sides agreed on the necessity of holding a joint committee meeting between the two countries as soon as possible and lay down executive mechanisms for joint cooperation action plans, President Sisi said.
MENA