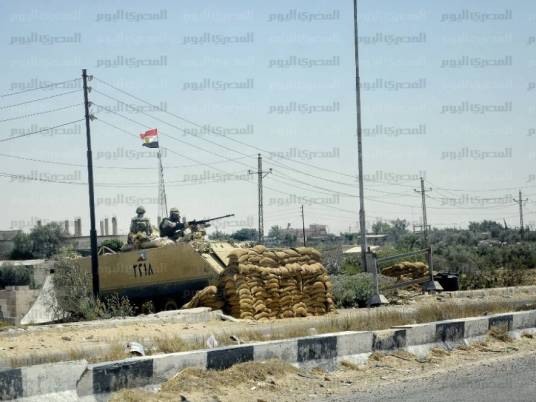 A police conscript was killed Tuesday morning in an attack on al-Safa police checkpoint south of Arish, North Sinai, a security source said, as violent assaults continue to escalate in the aftermath of the overthrow of Egyptian President Mohamed Morsy.
The same source revealed that violent clashes were taking place near a third Arish police station, the police club, the broadcast building and the fire brigade unit in Masaeed, west of Arish.
One woman was injured while passing the cross-fire.
On Monday, five conscripts were wounded in an attack on army outposts, while a young man was killed when he was passing Kharouba checkpoint, east of Arish, during battles between gunmen and army forces.
Health Ministry Undersecretary Tarek Khater said four army and police conscripts and a civilian named Walid Ismail Ashraf died in Sunday's clashes in Arish, and six military personnel and a civilian were injured in Rafah.
Gunmen have attacked several checkpoints and sites belonging to the army and police, the latest attack being on an army camp in Rafah and a police station in Arish on Sunday.
Edited translation from DPA