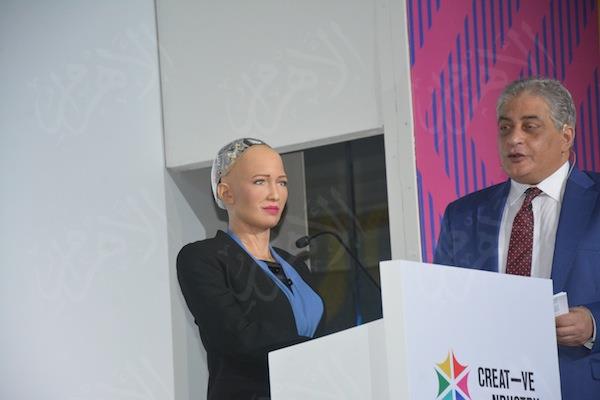 Sophia the robot wished the Egyptian national football team success at the FIFA World Cup in Russia and hoped that Egypt makes achievements in different fields to the benefit of mankind — similar to the achievements of Mohamed Salah in the field of sports.
Sophia, who is a guest at the Creative Industry Summit, taking place between April 17-18 in Cairo, was interviewed by host Osama Kamal during Tuesday's session.
As proof of industrial intelligence technology and that Sophia can remember events happening to her, Kamal asked Sophia about the dialogue she had with him on Monday.
He asked her what was the question that caught her attention during Monday's session, and she replied that the question was about whether she smokes or not.
Sophia said it was there to help and serve people, not to destroy humanity as some people believe. Sophia ended the 15-minute session with the phrase "Long live Egypt," although she does not speak Arabic, and the whole session was in English.
Sophia will speak again on Wednesday at the second day of the forum along with puppet Abla Fahita.
Sophia is a humanoid robot designed by a company in Kunekune designed to learn and adapt to human behaviour and to work with people. She obtained Saudi citizenship in October 2017, becoming the first robot to acquire a nationality.
Photo credit: Al-Ahram website