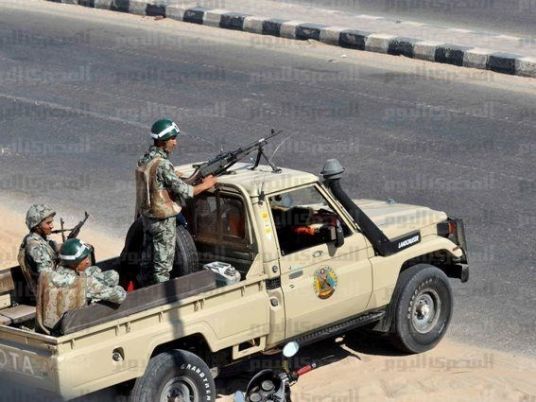 Security forces shot dead a civilian at a security checkpoint in North Sinai's Sheikh Zuweid late Friday.
Police sources told Aswat Masriya they have instructions to shoot any citizen who refuses to adhere to security personnel's instructions.
The slain civilian died due to his wound upon being transferred to the Arish General Hospital, said medical sources within the hospital.
Earlier in January, three civilians were shot dead after security personnel accused them of driving through security checkpoints in North Sinai and Suez and refusing to stop.
Egyptian authorities have intensified security measures in the Sinai Peninsula in reaction to proliferating militant attacks there, particularly since the army's ouster of Islamist President Mohamed Mursi in July 2013, which followed mass protests against his rule.
In the deadliest attack since last October, at least 30 people were killed and 50 others were injured on January 29 in four separate attacks against security forces in the governorate.
Egypt's most active militant group Ansar Bayt al-Maqdis, which changed its name to Sinai Province after pledging allegiance to the leader of the Islamic State fighters in Iraq and Syria, has claimed responsibility for the attacks.
A military aerial bombardment over Sheikh Zuweid on Friday left at least 25 "extremists" killed, a source at the North Sinai security headquarters said.
The targeted "extremists" are believed to be affiliated with Ansar Bayt al-Maqdis, the source added.