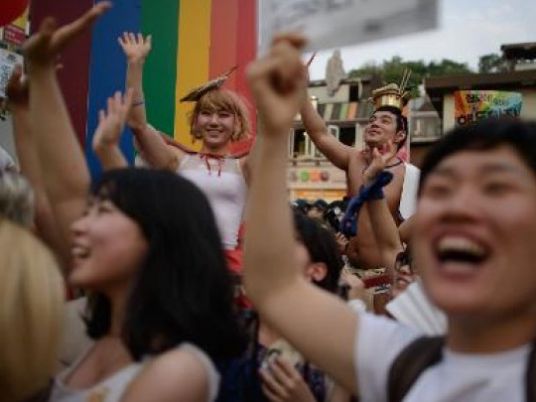 South Korea's gay pride organizers have won a court battle against conservatives and police seeking to block their parade celebrating sexual minorities late this month, they said Wednesday.
The Seoul Administrative Court on Tuesday ruled in favor of parade organizers, invalidating a police ban on the parade imposed last month.
Police had cited public safety concerns and traffic disruptions as the reasons behind the ban.
"Assemblies can be prohibited only when they directly threaten public order," the court said in a statement.
It also noted that the organizers of the annual parade had long been preparing for the event and therefore would suffer great damage should the event be scrapped.
"We welcome the decision," Kang Myeong-Jin, chief of the Korea Queer Culture Festival told journalists.
"The court has sent a message to the public that sexual minorities should also be guaranteed rights to speech as a member of a democratic society," he said.
Following the decision, the gay pride parade will take place on June 28 in the center of Seoul as scheduled, wrapping up the annual festival that kicked off on June 9.
More than 20,000 people including lesbians, gays, bisexuals and transgenders are expected to take part in the gala parade, the organizers said.
But they face fervent and vocal opposition from conservative Christian groups who plan to stage a street march in protest.
Gay and transgender Koreans live largely under the radar in a country that remains deeply conservative about matters of sexual identity and where many still regard homosexuality as a foreign phenomenon.
Gay rights activists say some progress has been made in recent years, but the police ban on the parade was the first since the annual Queer Culture Festival began 15 years ago.
The parade has in recent years attracted a growing number of participants — but also an equally swelling crowd of critics.
Last year, Christian activists disrupted the parade by lying down in the street.