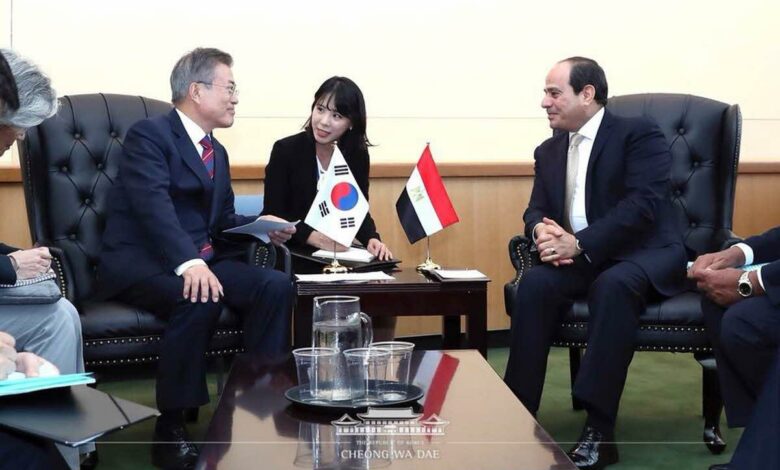 South Korean President Moon Jae-in will arrive in Cairo on Wednesday to hold talks with Egypt on renewable industries such as solar energy and environmentally friendly industries, as well as the development of railways, electric cars and seawater desalination.
South Korean Ambassador to Cairo Hong Jin-wook said in a press conference on Sunday that the South Korean president's visit to Egypt will last for three days, and there will be an official reception ceremony and a bilateral summit with the Egyptian President Abdel Fattah al-Sisi.
The Korean ambassador confirmed that the Korean president will hold the Egyptian-Korean round table conference to discuss these opportunities.
Hong explained that the current railway development project between Luxor and Nagaa Hammadi, will be added to the development of the Luxor/High Dam/Aswan line to help Egypt in vision of 2030 and a Decent Life initiative.
Egyptian government reports say that South Korea is one of Egypt's most important trading partners in the East and Southeast Asia region, and is an important destination for transferring advanced industrial expertise and technologies to the Egyptian industry.
The latest report issued in December on the rates of trade exchange between Egypt and South Korea said that during the period from January to October 2021, it achieved an increase of 46.9 percent, reaching one US$ 1.89 billion, compared to about $1.28 billion during the same period in 2020.
The Egyptian exports to the Korean market achieved during this period an increase of 62.3 percent, reaching US$ 531.5 million, compared to $327.5 million during the same period of 2020.
The most important items of trade exchange between the two countries include petroleum products, cement, marble, granite, aluminum, pharmaceutical products, home furnishings and ready-made clothes, in addition to cars, machinery, equipment, subway coaches and medical devices.