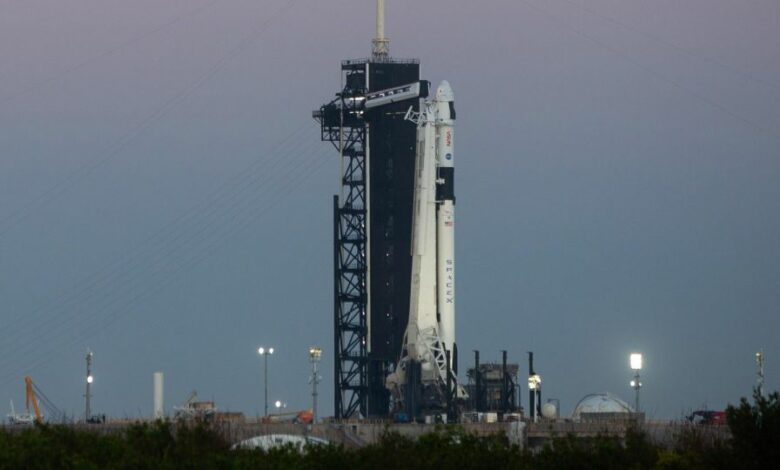 SpaceX and NASA have called off an astronaut launch to the International Space Station after an issue with the rocket's ground system was detected.
With about two minutes left on the countdown clock, the launch was called off because of a problem related to the TEA-TEB ignition fluid, which is used to ignite the SpaceX Falcon 9's rocket engines at liftoff.
The decision to wave off the launch was made "out of an abundance of caution," said Kate Tice, a SpaceX systems engineer, in commentary on Monday's webcast.
The four astronauts, who were strapped into their Crew Dragon capsule atop the rocket in the hours leading up to launch, waited for the rocket to be drained of its fuel before beginning the process of disembarking from the spacecraft and 230-foot-tall (70-meter) rocket. They'll stay on site at Kennedy Space Center until the next launch attempt.
The next opportunity for liftoff is Tuesday, February 28 at 1:22 a.m. ET, though it's not yet clear if the TEA-TEB issue will be resolved in time. Officials are tracking some unfavorable weather conditions that could affect that launch target, said Steve Stich, the program manager for NASA's Commercial Crew Program, at a Saturday news conference.
Additional back-up launch opportunities are available beginning on March 2, Stich said.
The SpaceX Falcon 9 rocket and Crew Dragon capsule were slated to lift off from NASA's Kennedy Space Center in Cape Canaveral, Florida, at 1:45 a.m. ET Monday. But the clock was stopped by engineers that oversee the ground systems with less than three minutes left.
This mission is expected to mark the seventh astronaut flight SpaceX has carried out on NASA's behalf since 2020.
The Crew-6 team that will launch on the SpaceX capsule include NASA astronauts Stephen Bowen, a veteran of three space shuttle missions, and first-time flier Warren Hoburg, as well as Sultan Alneyadi, who will be the second astronaut from the UAE ever to travel to space, and Russian cosmonaut Andrey Fedyaev.
Once Bowen, Hoburg, Fedyaev and Alneyadi are on board the ISS, they'll work to take over operations from the SpaceX Crew-5 astronauts who arrived at the space station in October 2022.
They're expected to spend up to six months on board the orbiting laboratory, carrying out science experiments and maintaining the two-decade-old station.
The mission comes as the astronauts currently on the ISS have been grappling with a separate transportation issue.
In December, a Russian Soyuz spacecraft that had been used to transport two cosmonauts and one NASA astronaut to the space station sprang a coolant leak. After the capsule was deemed unsafe to return the astronauts, Russia's space agency, Roscosmos, launched a replacement vehicle on February 23. It arrived at the ISS on Saturday.