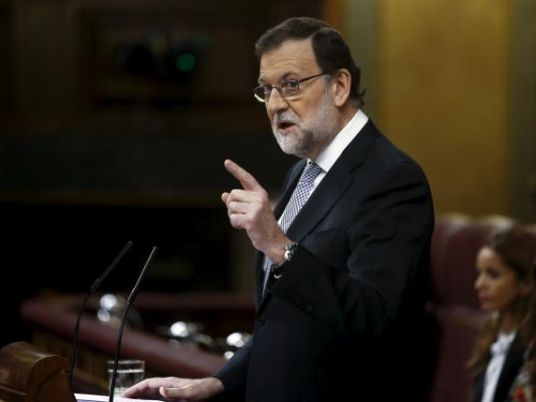 Spain's acting Prime Minister Mariano Rajoy said on Wednesday his party would oppose Socialist leader Pedro Sanchez's "unreal" bid to form a government, suggesting a parliamentary vote later in the day will fail to break the country's political deadlock.
The Socialists, runners-up behind Rajoy's center-right People's Party (PP) in a December election that left all parties well short of a majority, are hours away from a confidence vote on their proposal for a ruling coalition.
Sanchez has secured the backing of pro-business, centrist party Ciudadanos (Citizens) for the vote, but he is still well short of the 176 seats he needs to be elected prime minister, and faces rejection from a number of parties.
"This is a fictitious, unreal candidature," Rajoy told members of parliament, adding that the Socialist-Ciudadanos alliance, with 130 seats behind it, did not have enough weight.
The December 20 election plunged the country into political limbo as voters turned in their millions to newer parties such as Podemos (We Can) and Ciudadanos, which promised to battle high-level corruption and reverse social inequalities.
Sanchez has tried to woo leftist Podemos to support his coalition, urging the anti-austerity party to help it oust the PP, which has governed for the last four years.
But Podemos has so far refused to join his alliance, saying it preferred a pact with leftist parties only.
Rajoy meanwhile has been steadfast in his refusal to back Sanchez, although he has pushed to lead his own alliance with the Socialists and Ciudadanos.
He told parliament on Wednesday that Sanchez's proposal was full of contradictions, and that his program only contained measures to undo the reforms his government had brought in.
As the political paralysis drags on, leaders are increasingly turning their eye to fresh elections, deflecting blame for the fraught negotiations.
"You're trying to make us believe that if Spain doesn't have a government… it will be everyone else's fault," Rajoy said in his speech, as he criticized Sanchez for refusing to talk to the PP.
If Sanchez fails in the vote on Wednesday then he would only need to secure the most votes in a second ballot on Friday, but such a result is also doubtful as the PP and Podemos together command 192 seats.
A failure in both votes would open a two-month window for political parties to try and negotiate a majority, beyond which point a new ballot would be triggered, likely in June.