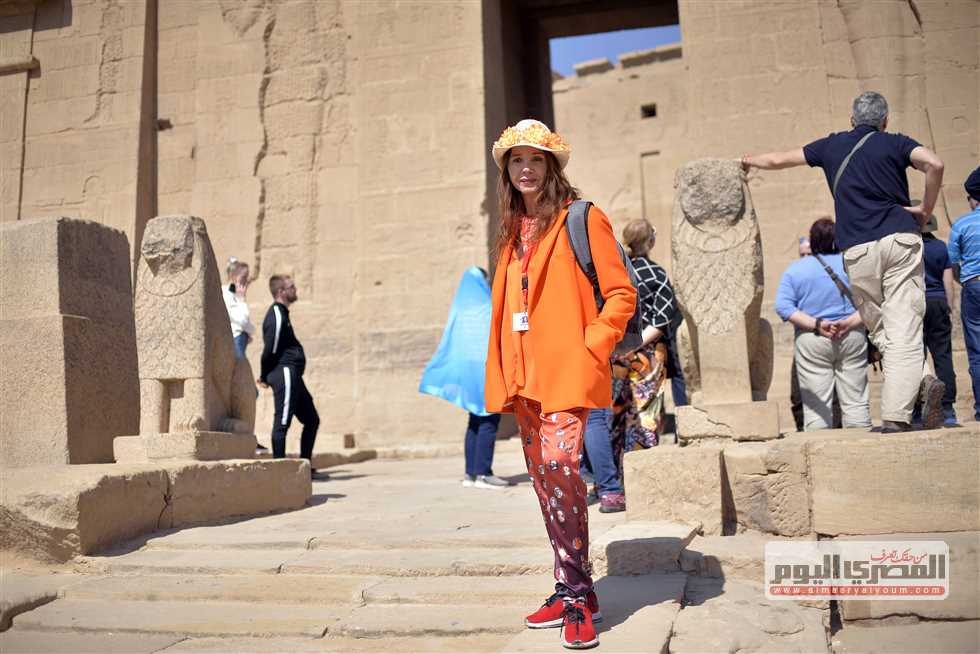 Spanish film actress and singer Victoria Abril took a tour on Tuesday in Aswan's Philae Temple, on the sidelines of the Aswan International Women's Film Festival, according to a statement from Egypt's Ministry of Tourism and Antiquities.
During her photo session in the temple, Abril exclaimed "Masr Habibti!" (Egypt is my love), expressing her admiration for the Pharaonic-era temple.
"Egypt has a special place in my heart," Abril said while taking a tour inside.
Philae Temple was built in honor of the goddess Isis on an island in the reservoir of the Aswan Low Dam, and was positioned near the Tropic of Cancer and designed to celebrate the summer solstice when the sun is directly overhead, creating a remarkable display of light and shade within the temple.
Having served as the center of the ancient cult that worshipped the goddess, the temple represents one of the last places where the ancient religion continued to be practiced in Egypt following the arrival of Christianity. Early Christians even used the main temple as a church, according to Memphis Tours.
In addition to visiting the ancient archaeological site, Abril was honored during the opening of the Aswan International Women's Film Festival, which is running from February 10 until February 15 and aims to highlight women filmmakers and artists, for her performances in a number of movies, including "Tie Me Up! Tie Me Down" (1989), "High Heels" (1993), "Kika" (1993), "101 Reykjavik" (2000), and "Jimmy Hollywood" (1994).
Abril, who hails from Madrid, became well-known in Spain in 1976 for her appearance in the iconic Spanish game show "Un, dos, tres… responda otra vez". Abril has also acted in films in France, Italy, and Iceland.
She has won the award for lead actress at Spain's Goya Awards once and has been nominated eight times.
In addition to her career as an actress, Abril made her musical debut in 2005 with the bosso nova jazz album "PutchEros do Brasil".
It is not the first time an international celebrity has visited one of Egypt's prized archaeological sites. In late January, the granddaughter of Nelson Mandela, South Africa's late political leader and anti-apartheid revolutionary, paid a special visit to Egypt's much-anticipated Grand Egyptian Museum, which is set to open to the public this year and hopes to attract five million visitors annually.
Last fall, Game of Thrones star Nathalie Emmanuel toured the Egyptian city of Luxor's ancient monuments during her visit to Egypt on the sidelines of the 41st edition of the Cairo International Film Festival (CIFF).