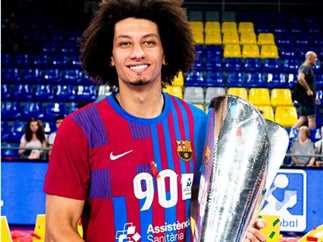 The Egyptian Minister of Youth and Sports, Ashraf Sobhy, announced holding a large celebration to honor Ali Zain,  Egyptian international and Barcelona handball player.
Zain sparked controversy after expressing his dissatisfaction at being ignored by the ministry despite winning the European title with Barcelona.
He wrote on his Facebook account: "It is frustrating to be informed of a reception at the airport, because you are an Egyptian champion who won the European Champions League, and then being completely ignored and no one receive you at the airport, despite the inquiries of the Ministry of Youth from the Egyptian Handball Association about the time of my arrival to arrange to receive me."
The minister responded quickly in a televised statement: "Today, Tuesday, we will honor Ali Zain before traveling to Oran to join the Egyptian delegation in Algeria, which is currently participating in the Mediterranean Games."
"The cause of this issue is the lack of coordination from the Handball Association. We thought that the player was heading to Algeria directly. We will honor Zain on Tuesday, and we did not know that not receiving him would cause him grief."
Sobhy continued: "Zain honored the Egyptians, and his achievement is like Mohamed Salah. He is a professional and the championship has a great meaning. There was a lack of coordination from the Handball Association, and I personally communicated with Zain, and God willing, I will meet him today before his travels."
Handball's shining star
Zain embraced glory this season after leading Barcelona to maintain the title of the European Handball Championship for the second consecutive season after defeating Kielce of Poland (37-35), in the final match that was held at the Lanxess Arena in Cologne, Germany.
With Barcelona, Zain achieved a historic five wins by winning the Super Cup, the King's Cup, the Spanish League, the Catalan Super Cup and the European Champions League.
After winning the Champions League with Barcelona, Zain announced his move to a new team, as he signed a two-year contract with Dinamo Bucharest a few weeks ago.