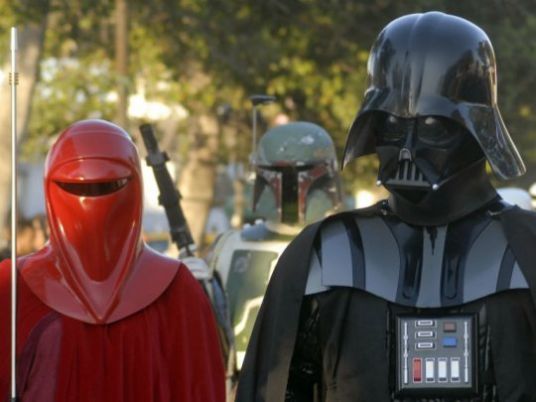 It may well be one of Hollywood's biggest success stories, but when the original "Star Wars" film was released in 1977 many people, including creator George Lucas, believed it would be a flop.
"I don't think anyone could have predicted what a smash hit and what a cultural phenomenon it was going to become," said Jonathan Kuntz, professor at UCLA's School of Theater, Film and Television.
"As soon as anybody saw 'Star Wars', they were converted and they fell in love with it."
But the early beginnings of the space epic didn't look that rosy.
Twentieth Century Fox, the film's distributor, hesitated over the film's $8 million budget and wasn't convinced a science fiction movie would fill theaters.
Such was the lack of enthusiasm that the studio planned a limited release and had to twist the arm of some theaters to agree to show the movie.
'It was a disaster'
Given the budget constraints, Lucas agreed to a lower salary in exchange for full merchandising rights to the movie and any sequels — a deal that would prove brilliant and make him very, very rich.
Prior to the film's release, Lucas organized a private showing to a group of film director friends and most, including Brian De Palma, gave it a thumbs down.
"It was a disaster," recalls Gary Kurtz, who produced the first two 'Star Wars' films.
"Everyone was like 'Oh, I don't know, it may not work'."
The only voice of dissent came from Steven Spielberg, who rightly predicted the movie would be a hit.
Still, Lucas was so convinced the movie would flop that on May 25, the day it was released, he went on holiday to Hawaii instead of attending the premiere.
And, as everyone knows, "Star Wars" immediately became a sensation and went on to become one of the highest grossing films of all time.
It played in theaters for one straight year, winning six Oscars and earning $775 million at the box office.
Overall, the space epic has generated $4.4 billion in box office revenue.
While that number is below earnings by the "James Bond" or "Harry Potter" movies, the upcoming release of the seventh instalment — "Star Wars: The Force Awakens" — as well as two planned sequels will likely make it "the undisputed champion of the box office as far as franchises go," said Jeff Bock, of the box office tracker Exhibitor Relations.
The secret to the success of "Star Wars," studied and analyzed in universities the world over, rests primarily with its multigenerational appeal, Kurtz said.
"Audiences of all ages could identify with the characters," he said. "Even little kids three or four years old got the basic structure of the story and enjoyed being sucked into that kind of adventure."
'Not total dystopia'
The space saga, inspired by the Flash Gordon movie serials of the 1930s, tells a classic story of good versus evil in a "galaxy far, far away," and mixes in visual effects, a romantic plot and battle scenes.
"It jump-started the whole science fiction and fantasy era that we are still living in," said Kuntz, who has given courses on the series at UCLA.
"'Star Wars' is a non-stop action movie with goofy characters and humor and portrays so many alien worlds," he added. "It opens the door on a fascinating new universe."
And unlike other sci-fi hit movies like "Blade Runner" and "The Matrix," the series also gives fans reason for optimism.
"It's not total dystopia, there is still hope," Kuntz said.
Still, the reason behind the stellar success "Star Wars" may never be known, said Kurtz, the producer.
"I would have never thought that 40 years after the first film was released, people would still talk about it," he said.