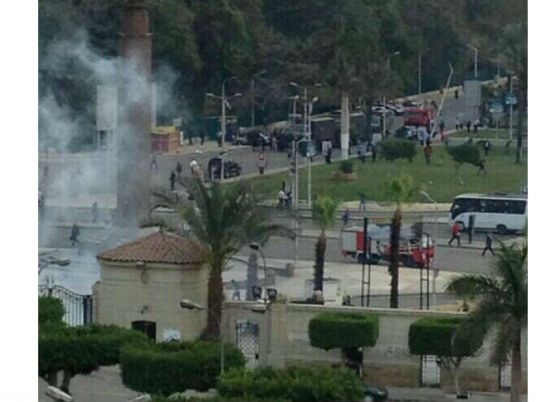 The Health Ministry has said one killed in the three blasts, which rocked the area surrounding Cairo University.
Authorities said two IEDs were planted in the bushes outside Cairo University's Faculty of Engineering and detonated on Wednesday morning killing one and inuring three others.
The deceased was West Giza police investigation department chief Tarek al-Mergawy, said Interior Minister Mohamed Ibrahim, adding that other five officers were injured in the blast.
A third explosion hit Bein al-Sarayat neighborhood, parallel to Cairo University, wounding six while police were combing al-Orman Park.
Deputy Cairo security chief, Abdel Rauf al-Serafy, was also among the injured, security sources said.
A fourth IED was defused in the vicinity of university, according to authorities.
Bomb squads also reportedly found two more bombs near the Faculty of Commerce after citizens reported a suspicious car at Bein al-Sarayat.
Cairo University and other universities across the republic have been swept with protests by students loyal to deposed president Mohamed Morsy since the army ousted him last July, engaging in sometimes deadly clashes with security forces.
Gaber Nassar, Cairo University President, said the "terrorist blasts won't hinder the classes," and insisted on resuming study at the university
Edited translation from Al-Masry Al-Youm