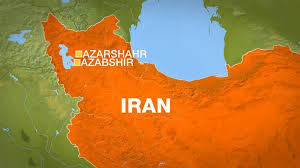 Iranian state TV is reporting that flash floods triggered by heavy rains have killed 12 people in the country's northeast.
Saturday's report from TV website irinn.ir quotes the spokesman for the country's disaster agency, Ali Bakhtiari, as saying the number of people killed in the floods rose to 12 in three northeastern provinces, Golestan, Khorasan and Khorasan Razavi. He said at least two others are missing.
Iran's Red Crescent chief, Mojtaba Ahmadi, tells state TV it's difficult to know the exact death toll because the flooding took place over the weekend, when many Iranians take to the riversides for picnics.
The country's meteorological organization says the rainfall was expected to continue until next Friday.
In April, at least 30 people were killed in flash flooding in eastern Azarbaijan.