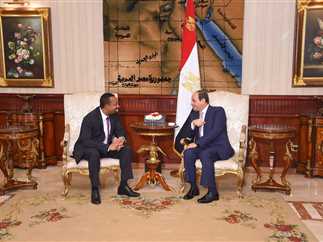 President Abdel Fattah al-Sisi met with the Ethiopian Prime Minister Abiy Ahmed in Sochi on Thursday, where the latter stressed that his statement about a military solution to the Grand Ethiopian Renaissance Dam (GERD) crisis has been taken out of context in the media.
Sisi met with Ahmed on the sidelines of the "Russia and Africa: Uncovering the Potential for Cooperation" summit, held from October 22-25 and co-hosted by Sisi and Russia's President Vladimir Putin.
The meeting between Sisi and Ahmed discussed the file of the Renaissance Dam in light of the latest developments on the topic, said Presidential Spokesperson Bassam Rady. Ahmed stressed that his recent statement before the Ethiopian Parliament about a military solution to the crisis was taken out of context, according to Rady.
Ahmed expressed his appreciation for Egypt's people and government, stressing Ethiopia's commitment to establishing the GERD without harming the interests of the two downstream countries, said Rady.
The stability of Egypt and Ethiopia is important for the entire African continent, Ahmed said, stressing that as Prime Minister of Ethiopia, he is committed to the path of negotiations to reach an agreement, as has been stated in the past.
Egypt has always shown understanding of the developmental interests of the Ethiopian side but at the same time seeks to uphold its historical rights to the Nile waters. Achieving development in Ethiopia should not come at the expense of Egypt's interests and its rights to Nile water, Sisi said.
The dam should be built within a balanced framework between the interests of upstream and downstream countries, he added, pointing out that the Nile River, stretching from the Ethiopian plateau to Egypt, is an artery of cooperation, brotherhood and development, and should not be a source of problems or rivalries. Opportunities for cooperation in this framework are supposed to overwhelm any possible disagreements, Sisi mentioned.
Rady said that Sisi and Ahmed agreed to immediately resume the work of the Independent Technical Research Committee in a more open and positive manner with the aim of reaching a final vision on the rules of filling and operating the dam and overcoming any repercussions that have resulted from the media's handling of the statements that were recently attributed to the Ethiopian side.
The Egyptian Foreign Ministry issued earlier in October a statement expressing its "shock," and "great concern and regret" at the statements reported by the media and attributed to Prime Minister Abiy Ahmed, speaking at the Ethiopian Parliament.
Ahmed's statements reportedly mentioned resorting to a military option in order to resolve the GERD crisis.
Edited translation from Al-Masry Al-Youm