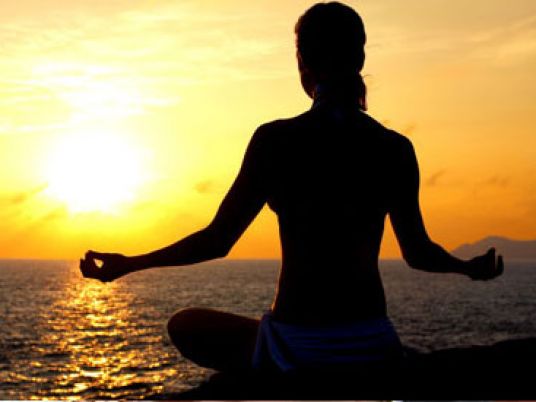 Stressful times for Greece mean potentially stressful times for visitors to Greece.
With the country still locked in the grip of a financial crisis that could yet trigger its exit from the eurozone, anxiety is never far from many people's minds.
Except perhaps in some of the best Greek yoga retreats, where meditation against a backdrop of a blue Mediterranean sea and sky guarantees relaxation.
Greece's tourism industry needs all the support it can get at the moment, so by heading to one of these oases of calm visitors will help, in a small way at least, to ease that tension.
Silver Island Yoga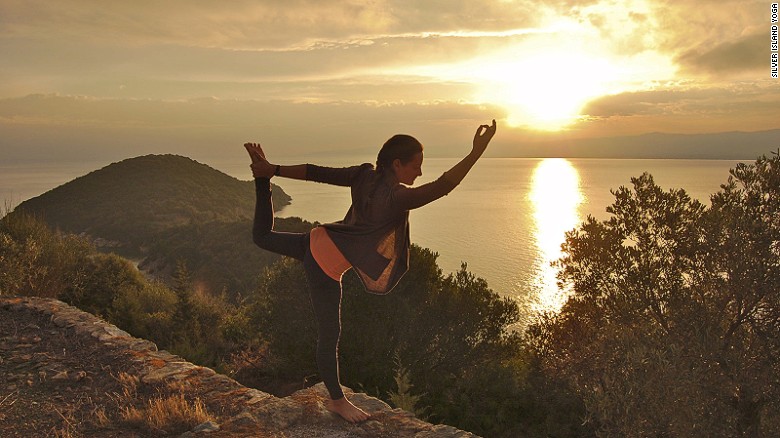 A private island located just a few miles from the mainland, set against the backdrop of the Aegean Sea, Silver Island is an ideal base for this exclusive yoga destination.
Evia, Greece's second largest island, which is connected via bridges to the mainland, is the getaway to this sanctuary.
Silver Island has been the Christie family home and working olive farm for many generations. Today, sisters Lissa and Claire Christie run the yoga activities.
There's no electricity or Internet on the island, making the retreat suitable for those looking for a digital detox — or an escape from the negative headlines about Greece.
It's eco-friendly too.
Two houses, the Main House and the Villa, provide accommodation for only a handful of people at a time.
There are just five simply but beautifully decorated twin rooms.
There's also a lighthouse, a small church, 2,000 olive trees and numerous paths spreading along Silver Island's 60 acres.
Its name, "Silver," stems from the shimmering leaves of the plentiful olive trees.
Two hourly yoga classes per day take place in the open air, overlooking the ocean.
The outdoors and indoor dining space, where vegetarian and organic meals are served, enjoy equally gorgeous views.
Itha108 Yoga Studio – Ithaki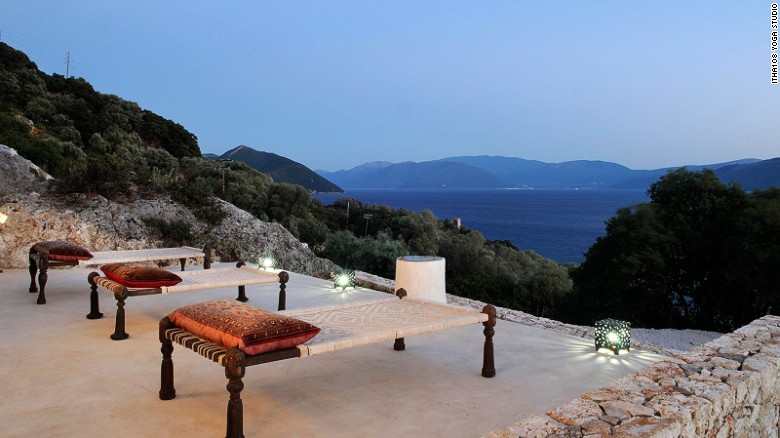 Tucked away in Piso Aetos, on the mystical island of Ithaki, this discreetly luxurious retreat is the creation of Ingrid Gottschalk.
"When I am on my own I sit quietly and let the energy talk to me. It is a healing and creative energy, exactly what I felt when I saw the land for the first time", says Gottschalk.
Each of the six bedrooms has been designed individually.
All of them are en-suite and air-conditioned, with mosquito nets, wood paneled ceilings and balconies with clear views across the Ionian Sea towards Kefalonia island.
Traditional craftsmanship from India's Rajasthan state is used to decorate the venue.
There are also three Mongolian yurts available for one to four people, one of which has a removable roof cap, perfect for stargazing.
Itha108 offers walk-in classes for the public during the fall, winter and spring months.
From May to September there are numerous retreats taking place, during which the yoga shalas are closed to the public.
Yoga classes take place in the two yoga shalas — one outdoors and one indoors.
During the cooler months, the indoor yoga shala benefits from underfloor heating while the outdoor shala "Sundara" is shaded by trees and cooled by Ionian sea breezes.
Aegialis hotel & Spa – Amorgos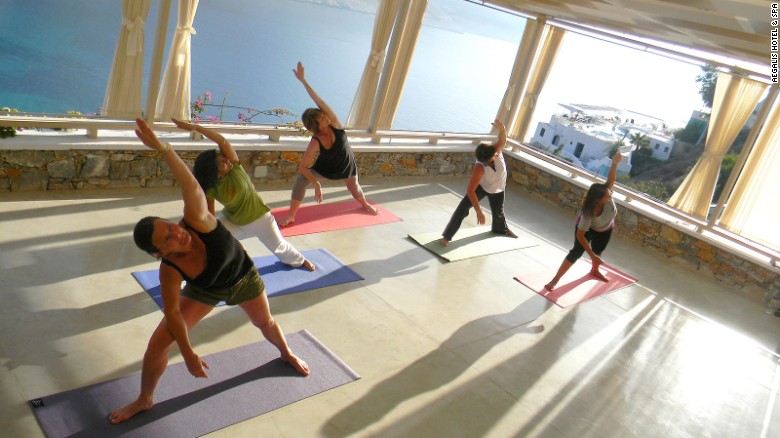 Even without the yoga, Amorgos, situated in the most eastern part of the Cyclades islands group, radiates a zen-like aura.
The island is famous for its role in Luc Besson's film "The Big Blue," and is known for its great scuba diving.
Well situated in the northern part of the island, the Aegialis Hotel & Spa stands on a hillside overlooking the bay of Aegiali.
Owners Irene and Nikitas Giannakopoulos are both from the island and their dream is to promote Amorgos's beauty worldwide.
The hotel was significantly upgraded in 2008, when it opened its Lalon Idor Thalasso Spa.
Yoga and holistic wellness retreats are offered here amid the island's Cycladic architecture and air of calm.
This year's calendar goes on until October, with instructors from all over the world.
The yoga retreats take place in two outdoor spaces offering incredible views.
There's also an indoor space within the spa.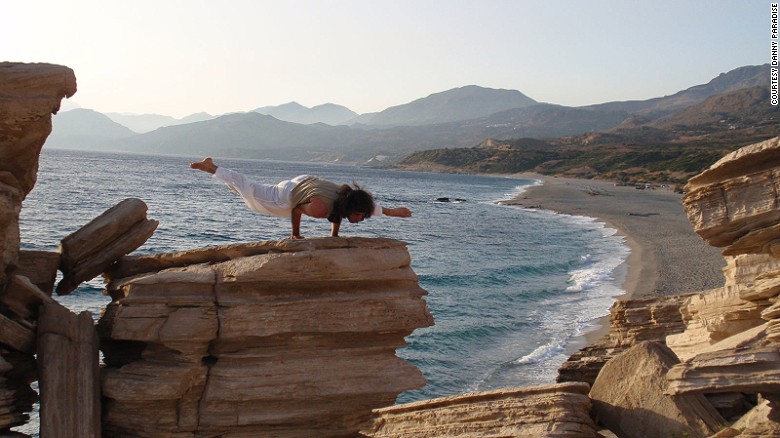 Yoga Rocks occupies a breathtaking location on a small cliff overlooking unspoilt beaches at Triopetra on Crete's virgin south coast.
Hosts Phil and Helen, both from the UK, offer week-long retreats aimed at deepening yoga practices away from daily routines, under the guidance of renowned yoga retreat teachers.
The yoga menu caters for all types, from active yoga styles like Ashtanga to more "fashionable" approaches such as Vinyasa Flow and Shiva Rea's Prana Flow.
Meditation, pranayama (breath and energy management) and chanting sessions are often available.
The simple en-suite rooms have stunning balcony or terrace views of the Mediterranean Sea.
Outdoor and indoor yoga shalas, meditation by the beach and healthy food based on the world-renowned Cretan diet all help elevate yoga routines.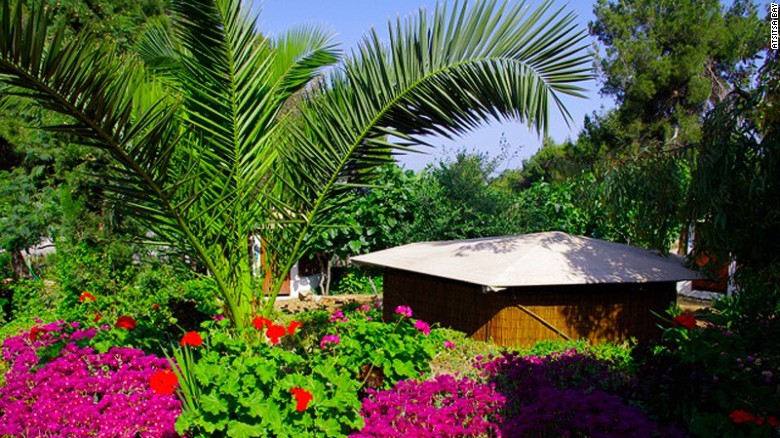 Based at the lesser-known but magnificent island of Skyros, on the peaceful side of the Aegean Sea, Atsitsa Bay offers yoga vacations in a relaxed but lively environment.
The retreat sits next to the sea and is circled by a glorious pine forest.
Atsitsa offers one and two-week community vacations with morning and afternoon yoga sessions, suitable for all levels.
This year's calendar runs until the end of September.
Yoga practice here can be further enhanced by various other activities such as mindfulness, life coaching, meditation and reflexology.
Guests can also take part in other recreational activities such as windsurfing, circus skills and music.
Rustic and cozy twin-share bamboo huts set within Atsitsa's verdant gardens of pine and fruit trees provide simple yet comfortable accommodation.
The retreat is full board and includes healthy Mediterranean meals.