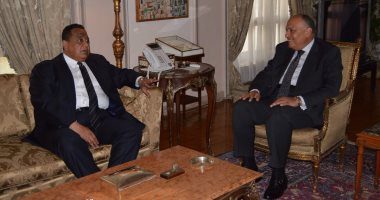 Egypt's Foreign Minister Sameh Shoukry declared that the Sudanese ambassador, who has been recalled to Sudan, will be returning to his duties in Cairo "very soon," adding that the current relationship between Egypt and Sudan needs ambassadors to urgently act as mediators.
During an exclusive interview with Al-Masry Al-Youm, Shoukry said the tripartite meeting between Egypt's Sisi, Sudan's Omar Al-Bashir and the Ethiopian Prime Minister Hailemariam Desalegn is being prepared that will discuss the latest around the relations, specifically the Grand Ethiopian Renaissance Dam.
Shoukry added that Sudan has not yet notified Egypt of its approval of Egypt's suggestion to include the International Monetary Fund (IMF) in the Renaissance Dam negotiations.
However, Shoukry believed his meeting with the Sudanese PM, which took place on Friday January 26 in Addis Ababa, as part of the African Summit's preparatory meetings, was a "good opportunity to be honest and discuss all the issues that led the relationship to deviate from its normal course." He added that "there was reassurance that both parties will work together to revive the relationships to the normal course […] during the next period."
Shoukry repeated his request that the media takes reporting on the matter as a serious responsibility, asking it "not to affect the relations," and to avoid being unprofessional or biased.
Egypt and Sudan have been enmeshed in a dispute over who has rights to the Halayeb and Shalateen region. Sudan accuses Egypt of occupying the territory, while Egypt says it is rightfully under its sovereignty.
Tensions reached a new level when Ethiopia announced the building of the Grand Ethiopian Renaissance Dam (GERD) in 2011. Egypt was against building the dam and so was Sudan at first. However, since, Sudan has changed its stance and is now supportive of the project.
On January 4, Sudan summoned its ambassador "for consultation", reported Reuters, amidst deepening tension between Egypt and Sudan since Sudan announced its support for the GERD.