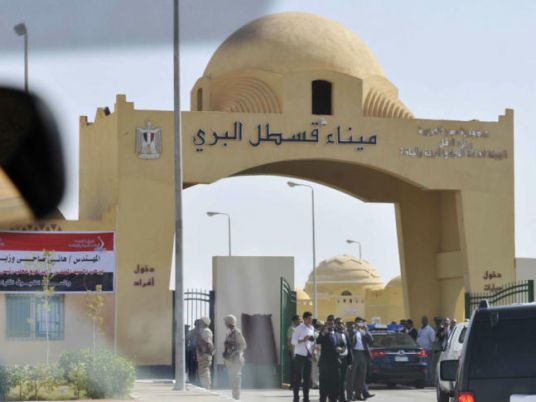 Another spark to fuel the fire of Egypt and Sudan's continued political tensions came on Wednesday when Sudanese Acting Minister of Interior Babikir Ahmed Digna alleged that fighters from the Egyptian Air Force violated Sudan's airspace around the disputed Halayeb triangle.
These allegations came the day before Egyptian Foreign Minister Sameh Shoukry's planned official visit to Sudan, the goal of which was to improve bilateral relations.
According to Sudanese independent newspaper El Tareeq, Digna mentioned Egypt's aerial violation while discussing the country's security status report in front of the Sudanese parliament.
"The Egyptian violation to Sudanese airspace included air reconnaissance operations on April 15," Digna said.
He then asserted that Egyptian security forces killed a Sudanese citizen after chasing him in Abu Ramad village, located in the Halayeb triangle.
Egypt and Sudan have disputed the territory of the Halayeb triangle since 1992, each claiming its own sovereignty over the area. Egypt deployed armed forces there in 2000.
Other high-ranking Sudanese officials have made similar statements about Egypt crossing boundaries. Most recently, Sudanese Defense Minister Awad Ben Aouf complained of military provocations on the part of Egypt in the disputed Halayeb triangle.
According to the Sudan Tribune, Aouf also mentioned during a closed parliamentary session that Egyptian military forces are aggravating the Sudanese forces based in the Halayeb triangle. He hopes that bilateral discussions between the Egyptian and Sudanese presidents will end these troubles.
Shoukry will attend meetings with the Egyptian-Sudanese Political Discussion Committee to discuss releasing the joint Media Charter of Honor, according to a statement from the Egyptian Ministry of Foreign Affairs on Wednesday.
According to the statement, the joint Media Charter of Honor will help in lessening irresponsible media coverage on the bilateral relations between both countries.
Similarly, the Egyptian Media Consul in Sudan preceded Shoukry's visit by calling on Egyptian and Sudanese media outlets to suspend any anyone who attempts to disseminate false news that could harm bilateral relations.
Some political experts think Shoukry's visit, which began Thursday, will effectively contribute to putting an end to the escalated political unrest.
However, other political experts consider the timing of these bilateral meetings to be a critical point as confidence in one another's countries is low due to recent accusations from Sudan.