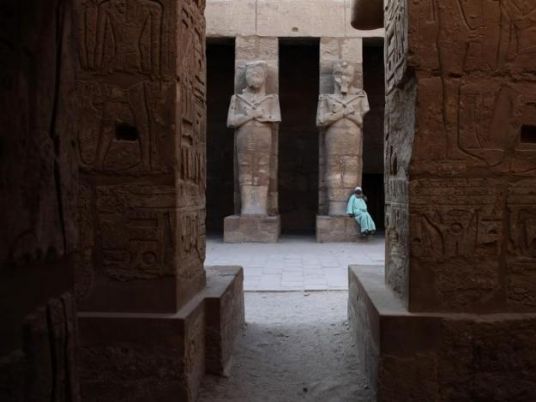 A suicide bomber blew himself up near Egypt's ancient Karnak temple in the southern city of Luxor on Wednesday, security sources and witnesses said, the second attack in just over one week targeting Egypt's vital tourism industry.
No group immediately claimed responsibility for the attack in which four Egyptians were wounded, the health ministry said.
Islamist militants have killed hundreds of police and soldiers over the past two years in a campaign to topple the Egyptian government, but there have recently been attacks on softer tourist and economic targets.
Gunmen on a motorcycle shot dead two members of Egypt's tourism and antiquities police force on a road near the Giza pyramids last week.
The Interior Ministry said in a statement it had "foiled a terrorist attack" at Karnak and that two assailants had been killed and a third wounded. It did not give further details.
Security sources said the casualties at Karnak included bazaar shop owners and two policemen. No tourists were wounded, according to government officials.
Images from the scene of the explosion showed what appeared to be body parts on the ground in front of a tourist shop and atop a public restroom. Uniformed and plainclothes police gathered nearby, and ambulances were parked beside tourist buses.
Antiquities Minister Mamdouh al-Damaty said he had, in coordination with the Interior Ministry, ordered security to be bolstered at ancient sites across Egypt.
Tourism is one of the top sources of income and foreign currency earnings for the Arab world's most populous country, and the sector has made an effective target for militants.
In 1997, 58 tourists and four Egyptians were killed in an attack in Luxor at a woman pharaoh's temple. It took Hosni Mubarak, the veteran autocrat ousted in a 2011 uprising, several years to crush an Islamist insurgency in the 1990s.
Conflicting reports
There were conflicting reports on the details of Wednesday's attack at Karnak, around 2 kilometers (1.6 miles) from the center of Luxor, although all sources said three attackers were involved.
A senior Interior Ministry security source told MENA the attackers tried to target a tourist bus before security forces engaged them, while security sources and witnesses said the men had tried to storm a barricade to enter the site.
One blew himself up, while the others engaged in the gunfight in which both were badly wounded. One died on the way to hospital.
The latest attack could impact Egypt's efforts to win back foreign tourists scared away by political and economic turmoil since the 2011 uprising.
North Sinai is the epicenter of an Islamist insurgency but there have also been repeated security incidents in Cairo that have raised concern over the effectiveness of security forces.
Security sources said two small roadside bombs in the Cairo area were discovered by security forces.
Separately, a soldier was killed by gunmen in the North Sinai town of Rafah, bordering Israel and the Gaza Strip, security and medical sources said.
Sinai Province, a militant faction that has sworn allegiance to the ultra-hardline Islamic State group active in Iraq and Syria, has claimed some of the deadliest attacks in recent years.