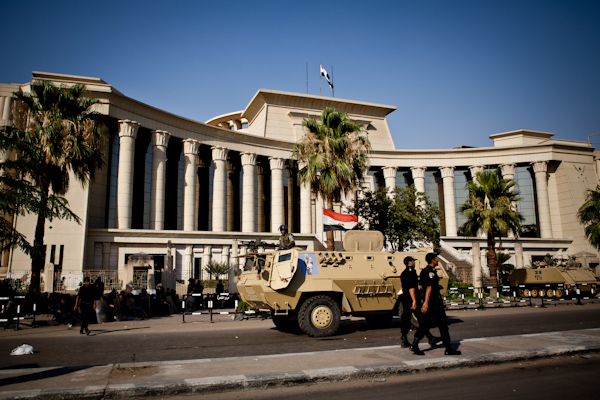 The Supreme Constitutional Court convened its general assembly for the first time Thursday following the removal of seven judges as mandated by the recently approved Constitution.
Article 233 of the new Constitution, which was officially approved on Tuesday, stipulates that the 10 longest-serving judges among its members make up the court, in addition to the current president. Previously the court's bench was comprised of 18 judges, some of whom are being reassigned to their previous positions.
Six members have returned to their previous jobs for other courts: Hamdan Fahmy, Ragab Selim, Mahmoud Ghoneim and Hatem Bagato as commissioners for the Supreme Constitutional Court, Hassan Badrawy to the Court of the Cassation and Polas Fahmy to the Cairo Court of Appeals. The seventh former judge, Tahani al-Gebali, who worked as a lawyer before her appointment to the court, resumed her legal practice.
A government source told Al-Masry Al-Youm he expects the Shura Council to pass a law delineating the powers of the Supreme Constitutional Court. The source added that this would not affect the cases currently being considered by the court.
Morsy supporters, who have staged sporadic demonstrations this month to pressure the court not to dissolve the Shura Council or the Constituent Assembly, ended their sit-in on Tuesday after the official referendum results were announced.
The court has been in confrontation with ruling Islamists since it issued a verdict in June dissolving the Islamist-dominated lower house of Parliament, ruling that sections of the parliamentary elections law were unconstitutional.
Edited translation from Al-Masry Al-Youm