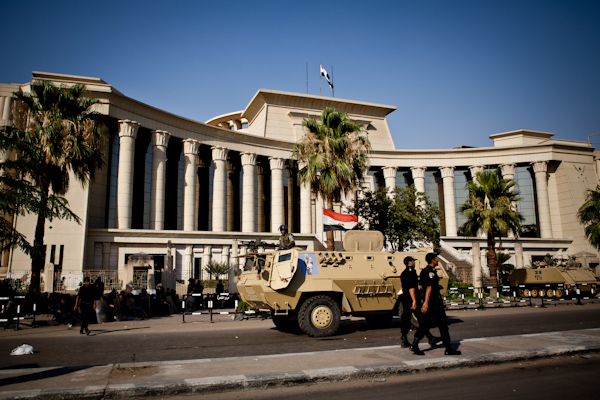 The Supreme Constitutional Court said Sunday that the Constituent Assembly has amended articles concerning the composition of the court.
The court had on Wednesday criticized draft articles on the court, saying they threaten its independence and limit its role in determining the constitutionality of laws.
Supreme Constitutional Court head Maher al-Beheiry told state-run Turkish news agency Anadolu that the Constituent Assembly informed the court that it is in the process of amending the articles to which the court had objected.
Gamal Gibril, a constitutional law professor and the head of the Systems of Governance Committee in the assembly, said the constitution-writing body's approval of some Supreme Constitutional Court proposals reflects its desire to reach compromise and work toward the common good.
The court had objected to Article 182, which concerned its authority to rule on the constitutionality of laws. The original article granted the court preliminary control whereby it would have the right to state whether a draft law was constitutional before it was promulgated, but that article was amended to further give it the power to rule on the constitutionality of a law after it had been issued and stop its implementation.
After the amendment, the article read, "The Supreme Constitutional Court is an independent judicial entity based in Cairo. It has the exclusive jurisdiction to rule on the constitutionality of laws and regulations and it explains legislation. The law determines its other specializations."
Beheiry said that Article 183 originally gave the right to the president to appoint the members of the court. After amendment, Article 183 became, "The head and members of the Supreme Constitutional Court may not be dismissed and the law states their number, the conditions they must satisfy and their rights and immunities as well as their accountability. They are nominated by certain entities determined in the law and the president appoints them after receiving the approval of the general assembly of the court."
In June, the Supreme Court ruled to dissolve the People's Assembly, saying the elections law was unconstitutional because it allowed party candidates to compete for seats allocated to independents.