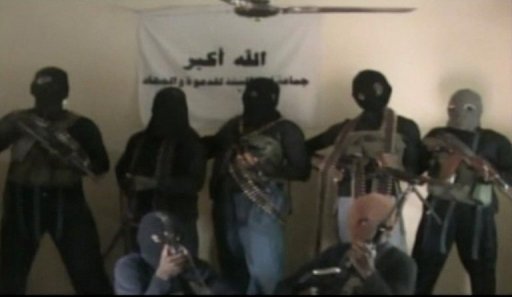 Suspected Boko Haram members released a video on Saturday that shows three kidnapped members of an oil exploration team in northeastern Nigeria, one of whom asks the government to reduce the use of force against the jihadists.
The team, which included university staff and employees from Nigeria's state oil firm, was kidnapped by suspected members of the Islamist militant group while searching for oil in the conflict-ridden northeast on Tuesday.
A rescue attempt on Wednesday ended in the deaths of at least 37 members of the original prospecting team and the rescuers, including Nigerian military and armed vigilantes, according to officials and military sources.
It prompted a change of tactic by the government amid a spate of attacks by the group whose bid to create an Islamic state in the northeast led to the deaths of at least 20,000 people and forced some 2.7 million to flee their homes since 2009.
In the video, seen by Reuters, the men are seen seemingly unharmed and sitting crosslegged on a red floor in front of a patterned wall. The video was obtained by Sahara Reporters, a U.S.-based journalism website.
The University of Maiduguri confirmed the three men in the video were their staff members. It also released a photo of them late on Friday.
"I want to advise that the use of excessive force is not the solution. "We want to call on the federal government to meet this demand and, as promised, they will release us immediately," said one of the men, who identified himself as a lecturer at the university.
The jihadist group split last year, with one faction led by Abubakar Shekau operating from the Sambisa Forest — a vast woodland area in the northeast — and the other, allied to Islamic State and led by Abu Musab al-Barnawi, based in the Lake Chad region where the search for oil took place.
"I want to call the acting president, Yemi Osinbajo, to come to our rescue to meet the demand of soldiers of calipha under the leadership of Abu Musab al-Barnawi," said the same man in the four-and-a-half minute video.
Acting President Yemi Osinbajo on Thursday dispatched military chiefs to the northeast to help regain control of the situation after insurgents have launched attacks with renewed zeal in the past few months.
The state oil company, which contracted university staff, has for more than a year surveyed what it says may be vast oil reserves in the Lake Chad Basin.
It wants to reduce its reliance on the southern Niger Delta energy hub, which last year was hit by militant attacks on oil facilities.