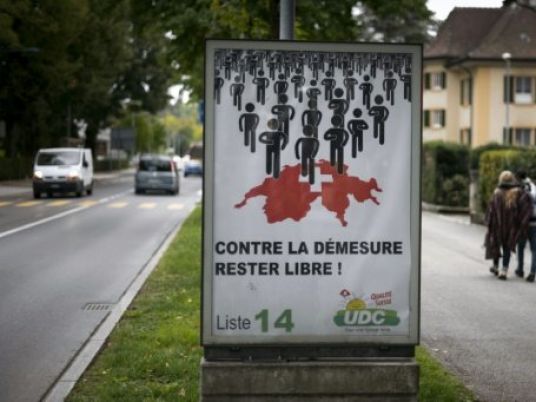 Swiss banking giant UBS will go on trial in France for establishing a wide-ranging tax fraud scheme, legal sources told AFP on Monday.
UBS will be charged with illegal banking practices and dissimulating tax fraud, the sources said, adding UBS's French subsidiary will also go on trial for complicity.
Five UBS top managers are also facing trial, including Raoul Weil, the former third-in-command at UBS.
France opened a probe into UBS after former employees blew the whistle over the bank's alleged system of setting up dual accounts to hide the movement of capital into Switzerland between 2004 and 2012.
The bank's staff allegedly approached French clients, from wealthy businessmen to sports stars, during receptions, golf tournaments or concerts to convince them to hide their money in Switzerland.
'Aggravated Laundering'
In June last year, French prosecutors recommended that UBS face trial for "aggravated laundering of tax fraud proceeds" while its French branch be judged for complicity in these crimes.
The move followed failed negotiations over a plea bargain.
"Those negotiations failed in particular because prosecutors and the bank could not agree on the sum that the bank would have to pay," said one source close to the case.
UBS has always denied any wrongdoing, saying there was no proof for its implication in any such alleged scheme.
On Monday, it said it rejected both "the allegations and the nature of the charges brought", a UBS spokesman told AFP in Paris.
The trial will offer the bank "the possibility of responding to the accusations brought against it", the spokesperson said, adding UBS was hoping for a "fair trial".
According to documents that German authorities handed over to French investigators, deposits from some 38,000 French clients with UBS amounted to a total of around 13 billion Swiss francs (12 billion euros, $13 billion), a source close to the case told AFP. Not all these clients are suspected of tax fraud, the source said.
French reports claim that some 10 billion euros were hidden from the French taxman.
French judges slapped a 1.1 billion euro bond on UBS in 2014, a measure the bank failed to overturn before the European Court of Human rights in January of this year.
The court, which normally hears complaints from individuals, ruled that the bond was "an interim measure which did not prejudge the outcome of the proceedings".
On the Zurich stock exchange Monday, UBS shares dropped 1.5 percent.
Headquartered in Zurich, UBS provides financial advice and banking solutions to wealthy, institutional and corporate clients worldwide, as well as private clients in Switzerland.
It calls itself "the world's largest and fastest-growing wealth manager".