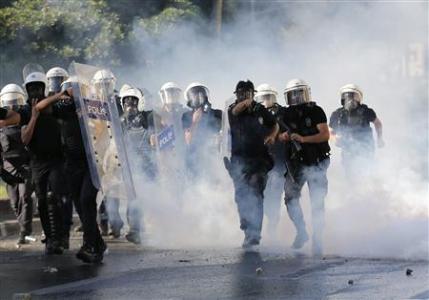 DAMASCUS – Information Minister Omran al-Zohbi accused Prime Minister Recep Tayyip Erdogan of Syria's former ally Turkey on Saturday of "terrorising" his own people and called on him to resign.
"The demands of the Turkish people do not justify this violence, and if Erdogan is incapable of using non-violent methods, then he should quit," state television cited Zohbi as saying after rioting in Istanbul.
"Erdogan is leading his country in a terrorist way, destroying the civilisation and achievements of the Turkish people."
Zohbi's remarks came as Erdogan vowed to press ahead with a controversial plan to redevelop an Istanbul park, calling for an immediate end to violent protests against the project that have spiralled into anti-government demonstrations.
On Saturday police used tear gas against protesters in Taksim Square, the epicentre of the protests that have left dozens of people injured and have earned Turkey a rare rebuke from its ally the United States.
Erdogan admitted there had been cases of "extreme" police action against demonstrators.
"The fact that he suppresses peaceful demonstrations proves that Erdogan is disconnected from reality," Zohbi said, adding: "The Turkish people do not deserve such savagery."
"We wish the Turkish people only stability and calm, and urge that Erdogan act wisely and not treat the Turks the way he has treated the Syrians," he added.
Ankara, formerly a key ally of Damascus, supports the rebels battling to oust President Bashar al-Assad's regime. Some 400,000 Syrians who have fled the violence at home are now refugees in Turkey.