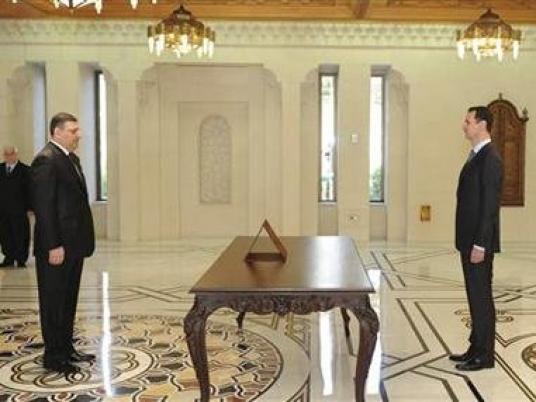 BEIRUT — Syria's prime minister defected and fled to neighboring Jordan, a Jordanian official and a rebel spokesperson said Monday, evidence that the cracks in President Bashar al-Assad's regime have reached the highest echelons of government.
Ahmad Kassim, a senior official with the Free Syrian Army, said Prime Minister Riad Hijab defected to Jordan along with three other ministers. A Jordanian government official confirmed Hijab defected with his family but did not comment on the three other ministers. The Jordanian government official spoke on condition of anonymity, saying he was not allowed to make any public statements on the defection.
Syria's state-run TV, however, said Hijab had been fired less than two months after taking up his post.
Hijab is the highest-level government official to defect since the uprising against Assad's authoritarian rule began 17 months ago. The other ministers' identities were not immediately known.
"Don't be scared. Defect from this criminal regime," said Mohamed Otari, who identified himself as a spokesman for Hijab. He spoke on Al Jazeera TV, urging other Syrians to join the defecting ministers.
Otari said Hijab is now a "soldier" of the revolution and added that his defection was planned for more than two months. He said the minister was now in a safe place, adding that Hijab took the job two months ago because the regime gave him a choice: Be killed or accept the post.
Earlier Monday, Syrian state-run TV reported Hijab was fired from his post. A former agriculture minister, Hijab took office less than two months ago and was considered a loyalist in Assad's ruling Baath party.
Otari said Hijab is from eastern province of Deir al-Zour from the Sikhni tribe. He said Hijab defected along with 10 families who are his relatives, adding that some of them held government posts including in various ministries.
Hijab is a former agriculture minister and a loyalist in President Bashar Assad's ruling Baath party.
He was appointed as prime minister on 23 June. The TV did not immediately give a reason why Hijab was dismissed from his post Monday. It said Omar Ghalawanji, Hijab's deputy prime minister, was named as a temporary replacement.
The announcement came hours after a bomb attack ripped through the third floor of the state TV building in Damascus, causing heavy material damage and light injuries.