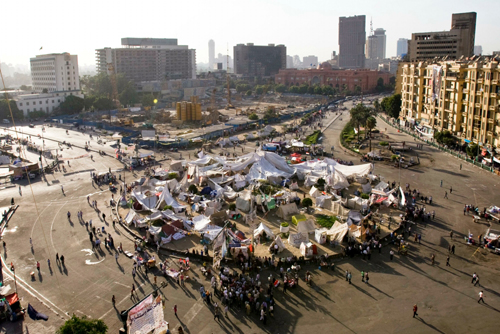 Calm prevailed on Sunday in Tahrir Square, neighboring streets as well as around the Semiramis Intercontinental Hotel and Simon Bolivar Square, near the US Embassy.
However, protesters continued to close Tahrir off to traffic.
Security forces were seen in front of the Shepherd Hotel on the Corniche, while several protesters were arrested by police near one of the Tahrir Square entrances.
Meanwhile, dozens of protesters belonging to various political movements continued to camp out in the square. Dozens of protesters marched across the square and chanted slogans against the rule of President Mohamed Morsy and the Muslim Brotherhood.
Several streets vendors were seen selling masks of the Black Bloc group made of cloth or plastic.
Clashes between police and anti-Morsy protesters erupted over the past week in Tahrir and on the Qasr al-Nil bridge during demonstrations commemorating the second anniversary of the 25 January revolution.
Edited translation from Al-Masry Al-Youm