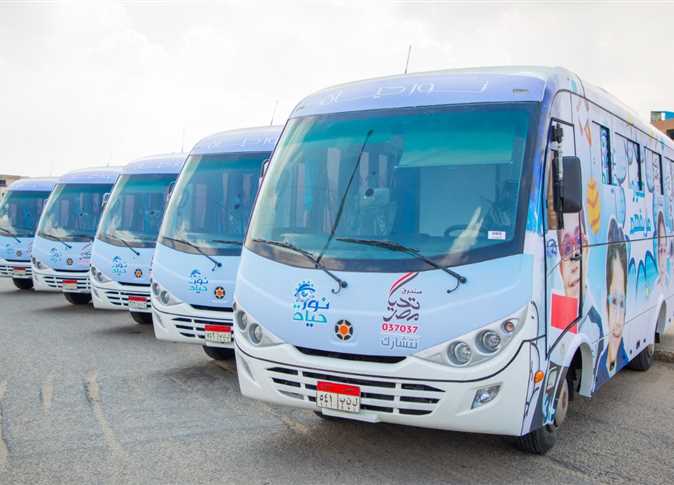 Tahya Misr (Long Live Egypt) Fund said on Wednesday it has prepared five mobile medical units and specialized medical teams equipped with the means to conduct medical eye examinations in the framework of implementing the presidential initiative "Nour al-Hayah," which aims to treat diseases that cause blindness or poor vision.
Financial and Administrative Director of Tahya Misr Fund Tamer Abdel Fattah said that the mobile units will help medical teams perform their tasks in areas that are difficult to reach, as they are equipped with tools to conduct medical examinations on the eyes in five governorates: Alexandria, Sharqeya, Minya, Qena and Luxor.
He added that each unit includes the latest devices for check-up to ensure the provision of a comprehensive medical eye examination within the mobile unit free of charge for all citizens.
Abdel Fattah pointed out that the fund has allocated LE 1 billion to the "Nour al-Hayah" initiative in order to implement President Abdel Fattah al-Sisi's directives to take measures to prevent and eliminate the causes of weakness and loss of vision between adults and primary school students.
"Nour al-Hayah" convoys continue to perform medical examinations on adults and primary school students for the fourth week in seven governorates: Suez, Ismailia, Alexandria, Sharqeya, Minya, Qena and Luxor. The check-ups in Beni Suef governorate will start this month, while they will be started in Giza and Dakahlia in April.
Tahya Misr Fund is implementing the initiative upon directives from President Sisi, in cooperation with the Armed Forces, represented in the Department of Medical Services, which has used all the facilities of its hospitals for surgical operations, as well as providing specialized medical personnel.
For its part, the Interior Ministry provides full support for the initiative through the ministry's hospitals to conduct medical and surgical procedures, and it has also coordinated with the Ministry of Education to overcome all obstacles that may face the medical teams regarding the medical examinations at primary schools. There is also coordination with the World Health Organization to provide technical support for the initiative.
Edited translation from Al-Masry Al-Youm