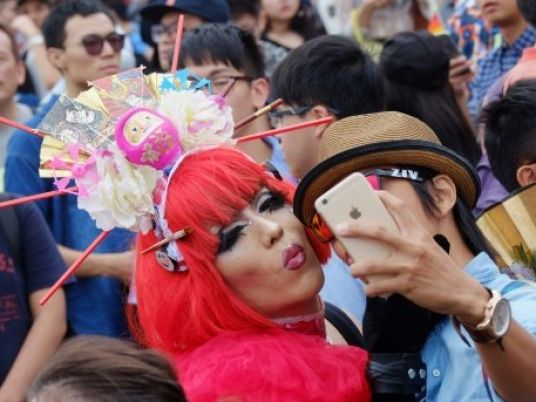 Tens of thousands marched in Taiwan's capital Saturday in Asia's biggest gay pride parade, with many hoping presidential elections next year bring to power a pro-gay government that will legalize same-sex marriage.
About 78,000 people took part in the 13th Taiwan LGBT Pride event, with supporters waving rainbow flags and handmade placards calling for marriage equality as they circled downtown Taipei.
Some donned costumes including a group of men dressed up as characters from Japanese manga "Sailor Moon" while a choir group called G-Major sang as they walked with the crowds.
While Taiwan is one of the most progressive Asian societies when it comes to homosexuality, a bill to make same-sex marriage legal has been stalled in parliament since it was first proposed in 2013.
"There's been huge changes in the society in recent years with a lot of grassroot efforts pushing for equality," said Jennifer Lu, an openly gay candidate for the Social Democratic Party in next year's elections.
"But the government hasn't kept pace. That's why I want to run," she told AFP.
Widely expected to become Taiwan's next president — and the island's first female leader — Tsai Ing-wen of main opposition Democratic Progressive Party expressed support for same-sex marriage.
"Everyone is equal before love," she said in a video posted on her Facebook page Saturday.
But Tsai has yet to commit to pushing the bill through, saying in a separate statement that it's "an issue the whole society must face together as there are many who support marriage equality but there are also many who are reluctant."
This year's march coincides with several events held in Taipei, including a queer film festival and a regional LGBT conference.
"Taiwan certainly is one of the more progressive in Asia," said Ashley Wu, co-chair of this year's conference which attracted about 400 activists from countries including China, Thailand, Cambodia, and Nepal.
"But there is still strong opposing voices such as Christian groups. Their numbers aren't big but their political influence is significant," Wu said.
While marriage is not yet an option, some are encouraged by recent developments in gay rights.
Kaohsiung in southern Taiwan earlier this year became the first city to allow same-sex partners to be listed in household registration records.
"Progress is inevitable," said 25-year-old JJ Chang, taking part in the parade for the fourth time.
This year Chang chose to celebrate his aboriginal identity by wearing a colorful headdress from his tribe in eastern Hualien county.
"Someone said there is no 'tongzhi' in the aboriginal community, so we couldn't stay silent," he said, using the Chinese term for gay and lesbian people.