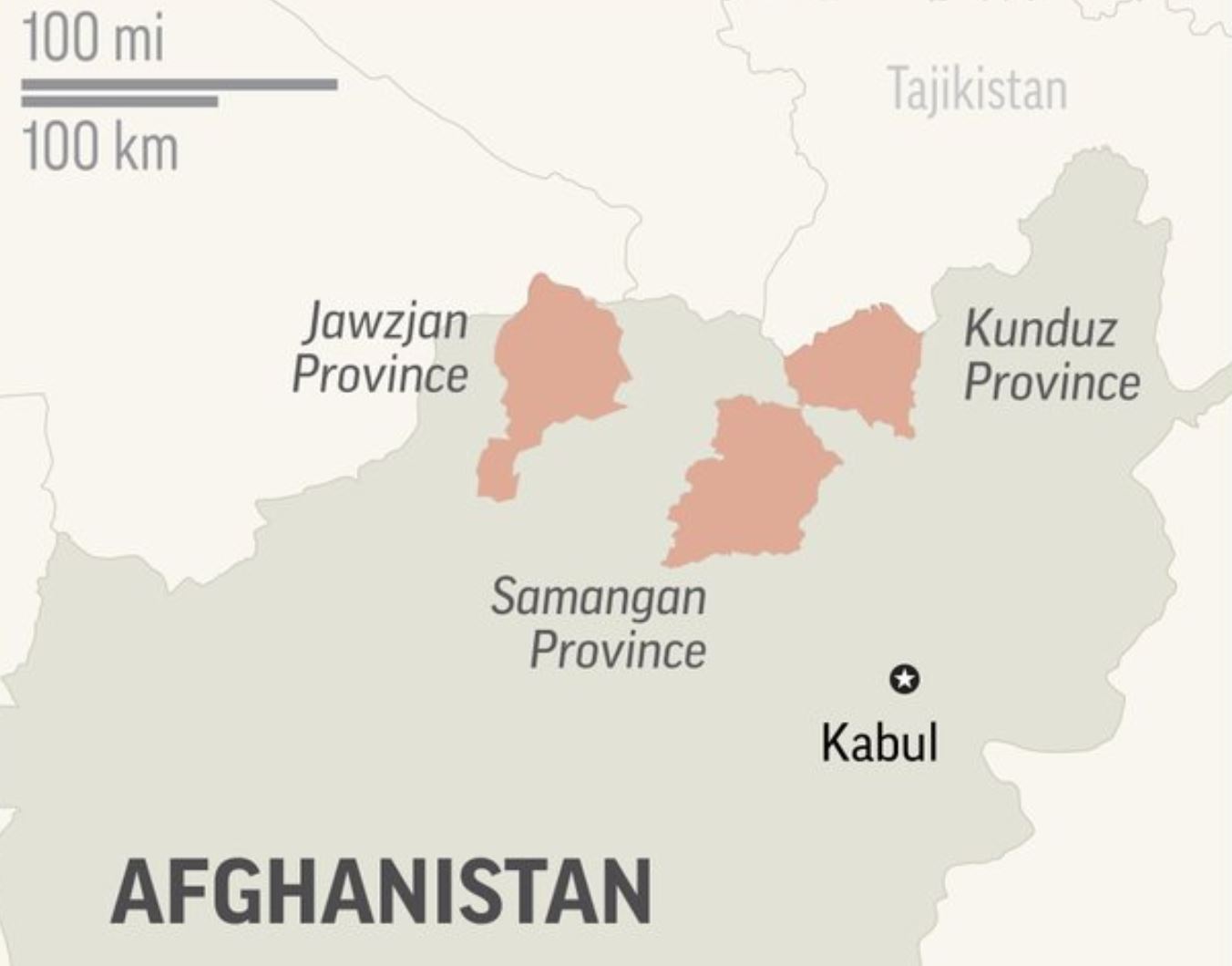 KABUL, Afghanistan (AP) — Taliban insurgents have launched separate attacks on Afghan security forces in the country's north, killing at least 37, provincial officials said Monday.
Mohammad Yusouf Ayubi, head of the provincial council in Kunduz province, said that at least 13 security forces were killed in an attack on a checkpoint they were manning in Dashti Archi district, with another 15 security forces wounded there. The firefight began late Sunday and continued into Monday morning.
Meanwhile in Jawzjan province, Provincial Police Chief Gen. Faqir Mohammad Jawzjani said the Taliban attacked Khamyab district from different directions, forcing Afghan forces to withdraw from the district headquarters to avoid civilian causalities.
"There was intense fighting and we didn't want civilian houses destroyed, or any civilian casualties," said Jawzjani. He said that at least eight policemen were killed and three other police were wounded. Seven Taliban were killed and eight were wounded during the gun battle, he added.
Taliban spokesman Zabihullah Mujahid claimed responsibility for the group for the attacks in Kunduz and Jawzjan provinces.
The Taliban also killed another 14 local Afghan policemen and pro-government militiamen in the Dara Suf district of Samangan province, provincial spokesman Sediq Azizi said, adding that six others were also wounded.
Azizi added that three Taliban fighters were killed and four others were wounded during the Monday morning battle.
No one claimed responsibility for the attack in Samangan, but Azizi blamed Taliban insurgents who are active in the province and often target Afghan security forces and local, pro-government militias.
In another report from northern Sari Pul province, provincial police chief Gen. Abdul Qayum Baqizai said that Taliban attacked checkpoints of the army and pro-government militia near the provincial capital, Sari Pul city.
Two pro-government militia fighters were killed and two others wounded, he said, but had no details on any possible casualties among the army.
"The Taliban's attack has been repelled, but sporadic gun battles are underway at the outskirts of the city," he added.
The Taliban hasn't yet commented on the fighting in Sari Pul province.
Since a June cease-fire that marked the Islamic holiday of Eid al Fitr, Taliban insurgents have ramped up attacks against Afghanistan's security forces killing hundreds of security personnel in increasingly well-coordinated assaults across the country.
During the three-day cease-fire, pictures circulated of Taliban arm-in-arm with Afghan security forces, singing and taking selfies of each other. Outraged Mohammad Yaqub, the son of the Taliban's founder, Mullah Mohammed Omar, circulated a harshly worded audio tape condemning the fraternization.
Since then attacks against military installations have been relentless, and on several occasions the Afghan National Security Forces (ANSF) have been outgunned and out maneuvered. Even Washington's watchdog, the Special Inspector General for Afghanistan's Reconstruction (SIGAR), in successive reports has noted weaknesses within the security forces, including desertions, inadequate training, and corruption.
Since 2014 the Afghan National Security Forces have taken the lead in the war against insurgents, with the US and NATO providing support, back-up and training. Yet the Taliban have increased in strength and according to the special inspector general nearly half the country is either under their direct control or deeply influenced by them.
As well an Islamic State affiliate has emerged and has carried out brazen and increasingly deadly attacks, most often targeting civilians and the country's minority Shiite Muslims. The Taliban and the Islamic State affiliate are enemies and have attacked each other's forces. The Taliban has also denied responsibility for attacks on Shiites, which IS has claimed.
____
Associated Press writer Kathy Gannon in Islamabad, Pakistan has contributed to this report.