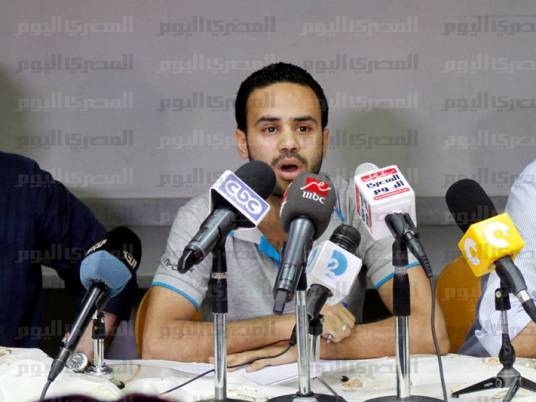 The Tamarod movement called for an urgent general assembly meeting on Monday to review violations made by members Hassan Shaheen, Mohamed Abdel Aziz and Khaled al-Qady.
In a statement, the movement said it has decided on freezing the membership of the three until the violations that "tarnished" the movement's image are reviewed.
Both Shaheen and Abdel Aziz took part in a rally in which Hamdeen Sabbahi, the current chief, announced that he would run in the upcoming presidential elections. Shaheen and Abdel Aziz both expressed support for him.
The movement added that its official Facebook page was hacked by a group of Popular Current members.
The statement called on all media channels to deal directly with Mahmoud Badr (the movement founder) as well as Mohamed Nabawi, Mostafa al-Sewesi and Maha abu Bakr, all members of the central committee.
Tamarod led mass protests on 30 June that pressured the military to oust deposed President Mohamed Morsy.
Sabbahi's intentions on running for presidency were unclear in light of the media and people's support for Sisi. However, he declared on Sunday his intentions on running for president.
According to the state-run Al-Ahram newspaper, the movement issued a statement on Friday voicing support for Sisi. It was removed, however, due to the controversy taking place within the movement as a result of the statement.
The statement supporting Sisi was published at 8:25pm on both the website and its official Facebook page but was removed after less than an hour from Facebook and left on the website.
The removal came after severe criticism by Facebook users, before it was later re-published at 9:45pm. The statement was removed again at 10:12pm and was not re-published until the story was written.
Meanwhile, the Tamarod movement in the delta region, including the governorates of Alexandria, Beheira and Marsa Marouh, announced its withdrawal of confidence from Badr because of his support for Sisi as president without communicating to them.
In a statement, the movement said Badr spoke on behalf of the movement and that he had declared decisions without discussing them with executive bureaus and had therefore violated regulations.
"Mahmoud Badr lied about calling for us to attend a movement meeting at the the delta offices in which it was decided to support Sisi. He lied in saying that we agreed, although we were not called to attend a meeting. We were surprised about the meeting and the decisions," it added.
It also added that Badr froze Qadi, Shaheen and Abdel Aziz's memberships through an individual decision and that he had announced it to the media without the backing of the movement's general assembly.
Edited translation from MENA and Al-Masry Al-Youm