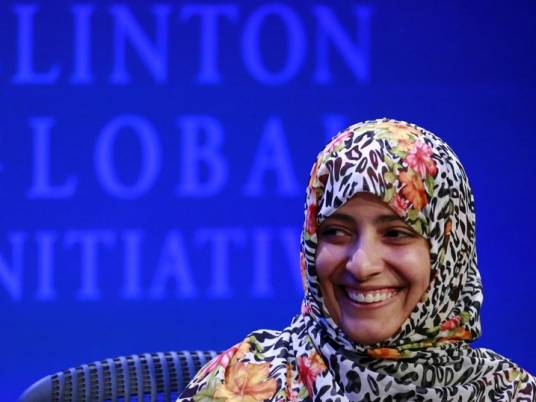 Yemeni Nobel Peace Prize winner Tawakkol Karman told Reuters Monday that the overthrow of President Mohamed Morsy by the Egyptian army marks a fatal blow to democracy in the Arab world, after Morsy became the first Egyptian president to come to power through free and fair elections.
Karman warned that the destruction of Egypt's revolution threatened the very survival of the gains of the Arab Spring.
"The first emerging democracy in Egypt's history, and in the region, since the Arab Spring is getting dismantled quickly," Karman said.
Karman last week announced on her Facebook page she would pro-Morsy protesters at Rabaa al-Adaweya sit-in but was then denied entry at Cairo International Airport by the Egyptian authorities on 4 August. Authorities later said that Karman was on the airport's ban list.
"Banning me from entering means one thing: that the new government in Egypt returned to the old despotic means. They cannot stand a different opinion," Karmen claimed.
The Yemeni activist described the overthrow of Morsy as part of a counter-revolution that aims to control the whole region and return governments brought down in 2011 and 2012 by the Arab Spring revolutions.
"The Arab Spring came to build democracy, contrary to a military coup," Karman said.
"Destroying the Egyptian revolution means the death of the Arab Spring."
Shame on the U.S. Secretary of State John Kerry to describe the coup as a restoration of democracy, Karman stressed.
"To support toppling a democratically elected president is a precedent that would destabilize the region and the world in the long term. The U.S. administration should learn from the revolutions of the Arab Spring," Karman added.
Edited translation from Al-Masry Al-Youm