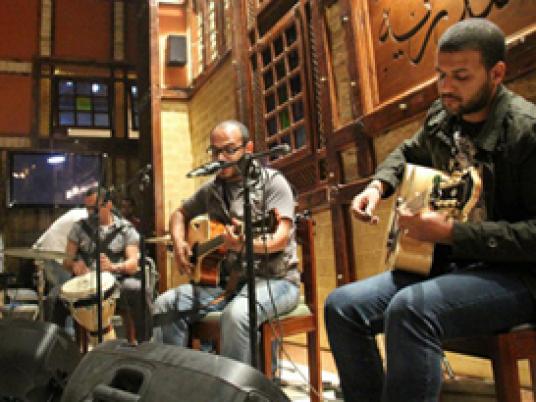 ALEXANDRIA — Part cafe, part performance space, part gallery and even part music studio, Teatro Eskendria is aiming to be not just a place for social gatherings, but a cultural center, and a hub for dialogue and creative expression in the Alexandria community.
Teatro cultural manager Amina Aboudoma says it's the first space of its kind in Alexandria.
On Sunday, it launched the Backstreet Festival, which continues until 29 September and involves about 17 performances from Europe and the Mediterranean region. The festival incorporates various types of cultural entertainment, including a circus show, musical performances, living statues and street musicians, with the aim of bridging the gap between artist and audience by bringing art to the streets. It will also include "regional training, and dialogue opportunities for people across Europe and the Mediterranean, with a focus on Egypt," says Margo Gorgui, Teatro cultural programmer and gallery operator.
The creative center is the brainchild of renowned Alexandrian playwright and theater director Mahmoud Aboudoma, who acts as the main financer, in addition to contributions from the Netherlands Embassy and the Cultural Resource Center.
The playwright has an impressive list of accomplishments in the alternative and independent culture scenes, most notably through his foundation, I-act — the International Association for Creation and Training. Founded in 2004, the organization works in the fields of arts, culture and social development, mainly targeting middle-class individuals and groups.
"We all currently still work with I-act — the main initiative we work on is the Creative Forum for Independent Theater for disadvantaged youth," she says. "We've been running the forum for close to eight years now, with a focus on the European-Mediterranean region. It takes place every year and includes theater performances, publication and dialogue programs, as well as training and capacity building workshops for young people and artists."
During the past eight years, she says, the I-act team has acquired expertise in the management and organization of artistic and cultural events, audience building, training programs related to human resources development, and project management.
While Teatro is a project developed by I-act and will be working under its umbrella for the first year, the cultural center promises to provide a far more extensive reach within Alexandria's cultural landscape than its theater-focused predecessor.
"In the years that we successfully organized the creative forum, we realized that there was a deeper need within all branches of culture for these types of organized gatherings," says Amina. "Teatro's main purpose is to act as an art space for social change and liberal expression."
"Whereas the creative forum is limited to theater, Teatro is open to all artists and freethinkers who are eager to create and affect social change," she adds. Activities range from artistic performances, storytelling events, training for creative sectors, dialogue, and children's programs, in addition to social gatherings at the cultural cafe.
So far, the space has been very promising. Upon walking through the passageway leading up to Teatro from Fouad Street, patrons are instantly met with splashes of creativity and inspiration, from the Turkish-patterned floors to the locally made modern art displayed along the walls. The staff is trying to capitalize on its privileged location on one of the oldest streets in Alexandria and in Egypt, dating back to the fourth century BC.
The street also lies in the city's commercial center and is hence frequented by shoppers and people looking for entertainment.
The space was originally a restaurant designed by an Italian architect in 1928. It covers 350 square meters, not including several halls and passageways. On the southern, backend side of Teatro lies a 6-meter-wide dead-end street directly parallel to the Roman Amphitheater, which is visible from the building's roof.
Every nook and cranny of the space is utilized as a platform for performance, education and expression, in the hopes of optimizing visitors' human potential and artistic talents to create positive change in society, particularly in Alexandria.
Amina Aboudoma says the training programs are at the top of the list of services provided to Alexandria's creative sector. They include varied artistic workshops in cinema, creative writing, design, music and more, for young artists and creative talents who do not have alternative educational resources available to them.
For Ayman Massoud, keyboardist and founding member of award-winning Alexandria-based band Massar Egbari, the cultural center also offers a wide array of services and platforms for both emerging and established musicians.
"There are very few resources available to independent musicians in Alexandria, particularly when it comes to rehearsal or recording studios," explains Massoud. "As a musician, it is extremely important to have a space where you can gather, jam and create in a concentrated setting."
Massoud says the studio rents at a very reasonable rate of LE120 per hour for recording sessions and LE30 per hour for rehearsals. In the coming months, Teatro plans to begin hosting workshops for producing and mixing electronic music, in addition to sound recording.
Thus far, the cultural center has held several musical performances, ranging from Palestinian oud and kanoun player Huda Asfour to local underground bands such as Oriental-rock fusion sensation Eftekasat, Alexandria natives Soot Fel Zahma, and open mic nights run by the group Mashrou3 Al Mareekh.
Additionally, Teatro uses its multipurpose hall to screen films to introduce local residents to different kinds of cinema. This month, the cultural center has been screening Iranian films and holding discussions on them afterward.
Of the many services Teatro provides the community, Amina says dialogue and debate programs are of the utmost importance to the overall operation.
"The 25 January revolution was characterized by social and political activities," she says. "This reflects the desire of many young people, artists and intellectuals who want to express themselves while presenting and analyzing their problems — this type of activity is crucial in the times we are living in. At Teatro, we want to inspire not only next-generation artists, but next-generation thinkers as well."
Additional reporting by Fatma Keshk
This piece was originally published in Egypt Independent's weekly print edition.