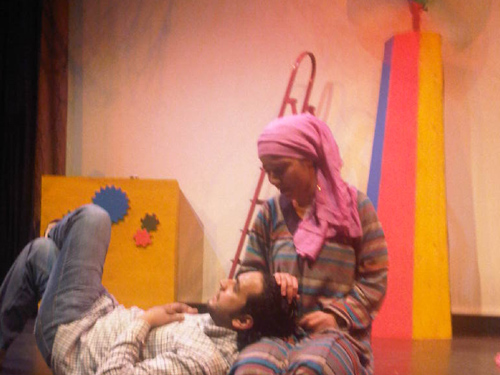 In 2007, I asked composer Amr Salah, the director of Cairo Jazz Festival, if he was trying to resist the deterioration in mainstream Egyptian music with jazz.
"It's not a war," was his response. "I don't have any relationship with the commercial scene to resist it. All I'm trying to do is open up a space for different types of music to exist, and then people can choose what they'd like to listen to."
Salah was then working with his jazz band, Eftekasat, on their second album, "Dandasha" ("Explicit"). Eftekasat was one of the most successful junior bands at the time; but this wasn't enough to create the space Salah dreamed of, so he decided to launch the Cairo Jazz Festival, whose fourth edition opens tonight.
Since its first edition in 2009, the festival has hosted international artists like Lebanese composer Ziad al-Rahbany, Japanese pianist Makoto Kuryia, the Carles Benavent Quartet from Spain and the American Royal Crown Revue band that appeared on in the Hollywood blockbuster, "The Mask." The festival also held several music workshops in an attempt to bring jazz music into the spotlight in Egypt.
This year, the festival is hosting artists from eight countries, including the Portuguese Andre Carvalho Quintet, the Spanish Eduardo Niebla Trio, the American Adam Miller Group, Elisabeth Lohninger from Austria, the Dutch Artvark, Michelle Rounds from Australia, as well as Kumi Adachi and Club Pangaea from Japan. From Egypt, Eftekasat, Positive Energy and Akram Sharkawy Group are playing.
Every year, the festival pays tribute to major jazz figures. Dutch drummer Han Bennink is this year's guest of honor. Bennink will be receiving the Cairo Jazz Festival's 2012 trophy for lifetime achievement on Saturday night, when he will perform at the River Hall in El Sawy Culture Wheel.
The seventy-year old Bennink is a visual artist as well as a drummer. His first percussion instrument was a kitchen chair. Bennink has since occasionally performed at his exhibitions. The experimental musician and artist has played a vital role in the genesis of European free jazz. "Everybody should, before they die, see Han Bennink," as the Guardian once noted.
Also in this year's festival, Eftekasat will be celebrating their 10th anniversary, which will coincide with the "10 YEARS UNDERGROUND" celebrations. In addition to the concerts, the festival is hosting film screenings, a mega photo exhibition of underground bands, and a number of seminars, where keynote speakers and music critics will highlight the success stories and challenges facing the underground music scene.
This year the festival is attempting to document the history of underground music scene in the face of the systematic distortion of Egyptian taste by main stream music, as Salah puts it.
Salah believes that what happened to music over the past 30 years is intentional. "Producers didn't go with the flow. They created that flow. They knew what they were doing. They offered certain music genres very cheap so they can sell people anything latter," he told Egypt Independent.
This vision isn't the result of conspiracy theories, Salah notes, adding that he has been interacting with what is happening on the ground for quite a long time. The underground music scene needs to be as well organized as mainstream producers. They have the advantage of large funds, but underground bands have an artistic voice, he says. To reach a larger audience base, Salah chose bands that are close to oriental jazz to perform in this year's festival. He also wanted to hold some of the concerts on the street, but was worried due to the security situation. All concerts will be held at El Sawy Culture Wheel and Cairo Jazz Club.
Salah also chose the festival's slogan as "Egypt is fine" to show that cultural production and entrepreneurship can never stop. He tried to expand this year's edition and wanted the Culture and Tourism Ministries to partially sponsor the event, but was met with little enthusiasm. Hence, he cancelled a number of events including a concert for international star Paco de Lucia.
The Cairo Jazz Festival continues until 17 March. For the complete program of events check their website.