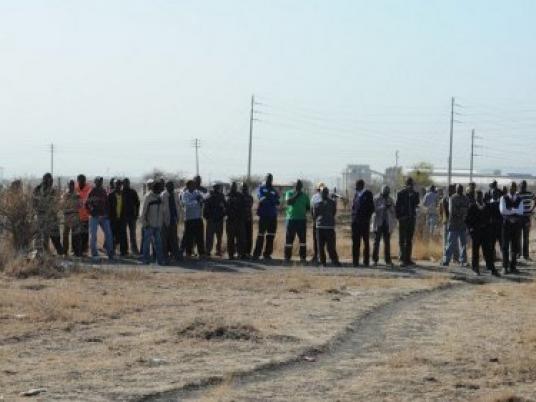 A hundred women danced in a dirt road Friday, singing protest songs amid ramshackle wooden and corrugated metal shacks sitting over one of the world's richest platinum deposits.
These songs were once directed at South Africa's white apartheid government, but these women were singing to denounce their own police who fired on their striking men, leaving 34 dead, the day before.
"The police came here to kill our husbands, our brothers. Here. Our children!" said 42-year-old Nokuselo Mciteni.
Her own husband survived the clash between police and workers in the Lonmin platinum mine staging a weeklong wildcat strike.
But she said she hadn't seen her neighbor since Thursday, when he joined the hundreds of men protesting on a nearby hillside.
Occasionally the women stopped to shout at forensics experts combing through the dusty scene of the deadliest police action since the end of white-minority rule in 1994.
Brightly colored plastic markers were stuck in the ground, indicating the evidence that police say will prove that they acted in self-defense after armed strikers charged through a cloud of teargas. Police said some workers were firing guns as they advanced.
A police helicopter circled overhead while some 2,000 workers again assembled on a hillside covered in yellowed grass. Some carried metal rods and clubs, wrapping themselves in blankets against the late winter chill.
They denied having guns or charging the police. They said they gathered on the hill because they have nowhere else to go.
"We met at the only place no one can say they own, the only open space," said Zolisa Bodlani, 32.
"We were meeting," said Mozambican migrant worker Luis Macuacua, 35. "Suddenly the police came and chased us away. They made war."
Despite the wealth underground, the shantytown the miners call home doesn't even have a road. Children play in the dust, while communal pit latrines with no running water stand outside the tiny houses, emitting a terrible stench.
"We can't afford to buy food. People working at Lonmin can't send their kids to school," said Jack Khoba, 29, a mine supervisor.
That is why they want their wages of 4,000 rand (US$486) tripled — a demand unlikely to be met in an industry that has already been forced to close several mines this year as companies struggle against low platinum prices.
Details on the dead and injured were still hard to come by Friday. Many relatives went to nearby hospitals hoping for news.
Before Thursday, 10 people had already been killed during the weeklong strike as rivalry between unions turned into vicious clashes.
Many people were still too scared or traumatized to talk about Thursday's killings, which made their homes a landmark to equal the more horrific sites of apartheid atrocities.
"I don't want these people to see me talking to you because then they're going to kill me," one man said. "Just go, because I don't want to die."