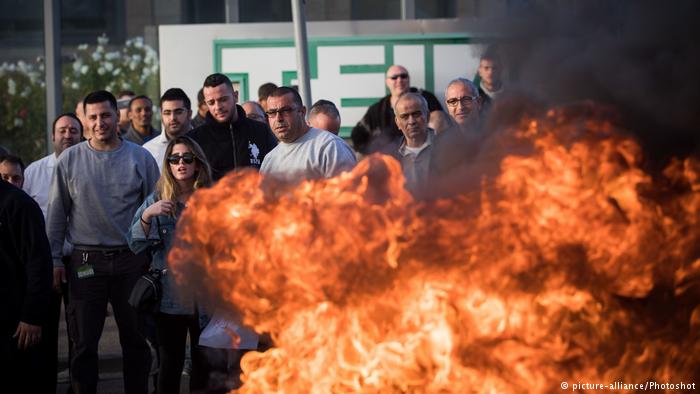 Israel's labor union launched a four-hour nationwide strike Sunday in a show of protest against large-scale layoffs planned by pharmaceutical giant Teva.
The world's largest generic drug maker, and Israel's largest company, announced Thursday that it would slash 14,000 jobs worldwide, including at least 1,700 in Israel.
The strike began at 8 a.m. (0600 GMT/UTC) and affected airports, shipping ports, hospitals, banks and government offices.
Air traffic at Tel Aviv's Ben Gurion airport ground to a halt after the Jewish state's powerful Histadrut trade union called the strike, but many flights were rescheduled out of the four-hour strike zone, so only seven flights were canceled.
Hospitals scaled back nonessential operations. Demonstrators blocked traffic at the entrance to Jerusalem outside the prime minister's office as the Cabinet was convening, and at the entrance to the Teva plant. Some beat drums and carried placards blaming Teva's management for the crisis.
"Bring the failed management of Teva to justice," read one sign.
Another poster read, "Closing Teva is an attack against the state of Israel."
A huge debt-load
Netanyahu told his Cabinet that he planned to meet with Teva's new CEO Kare Schultz, and vowed to do everything possible to minimize the number of lost jobs and to keep the company based in Israel.
"It started as an Israeli company and we want it to remain as an Israeli company," Netanyahu said.
Schultz sent Netanyahu a letter last week apologizing for the layoffs but said the company had no choice.
Teva has been hit hard by the expiration of patents on its blockbuster drug, Copaxone. In addition, price pressure on its core generic drugs business and a $35 billion debt load incurred from its purchase of competing pharmaceutical giant Allergan have hit the company hard.