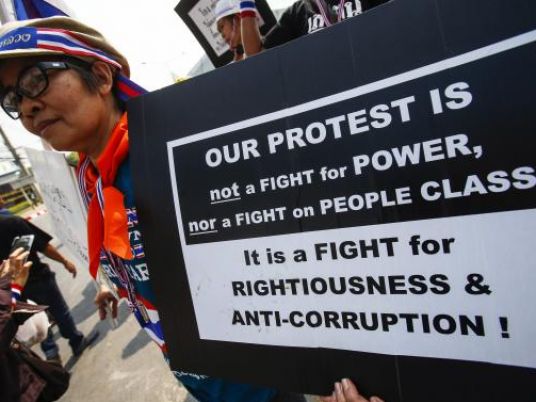 Bangkok (AFP) – Public anger at the Thai military's coup grew Sunday as more than one thousand protesters shouting "Get Out!" marched across the capital Bangkok in defiance of an army warning against protests.
Demonstrators began marching in the Chidlom district and made their way across the city to the Victory Monument cheered by onlookers, an AFP reporter at the scene said, after a tense standoff with armed soldiers in the city's retail heart.
It was the largest expression of dissent since the army seized power on Thursday after months of political turmoil.
There was no sign of soldiers or police on the streets during the march Sunday, which went ahead despite a junta statement calling on people not to protest and a martial law ban on gatherings of more than five people.
"I am not afraid of them because the more we are afraid of them, the more they will stamp on us," protester Kongjit Paennoy, 50, told AFP. "We want an election — to choose our own boss."
The military has detained former premier Yingluck Shinawatra and scores of other ousted government leaders and political figures since the coup, which brought sharp international criticism.
"I ask for people's understanding on the current situation and that they refrain from anti-coup rallies, because democracy cannot proceed normally at the moment," said junta spokesman Colonel Winthai Suvaree Sunday morning, adding a warning against using social media to "incite" unrest.
Before the main march, minor scuffles broke out as dozens of protesters, some waving signs reading "Junta Out" and "Fuck Coup", staged a boisterous demonstration, jeering angrily and pushing at lines of armed soldiers outside a Bangkok shopping mall.
At least two protesters were taken away by the troops, one bleeding, according to AFP journalists.
Bangkok has seen several smaller outbreaks of protest against the junta since army chief General Prayut Chan-O-Cha launched his takeover on Thursday.
Witnesses also reported demonstrations overnight in parts of the Shinawatra family's northern power base, with rallies in the city of Khon Kaen and a heavy military presence in Thailand's second largest city Chiang Mai.
The junta on Saturday announced it had disbanded the Senate and placed all law-making authority in Prayut's hands.
Civil liberties have been curbed, media restrictions imposed and most of the constitution abrogated.
– Political figures detained –
Thai journalist Pravit Rojanaphruk was the first reporter to be summoned by the junta. He reported to a Bangkok army conference centre on Sunday with black tape across his mouth in protest, according to witnesses.
Analysts have said the developments were an ominous signal that the army is digging its heels in and may be unwilling to hand over power to a civilian government in the near term.
Winthai said those detained by the military were being held without restraints and had not been "tortured or beaten" and reiterated that they would be released within seven days.
Those being held include politicians and leaders from both sides of the country's warring protest movements, while the army has summoned academics seen as critical of the coup.
Thailand has been rocked by persistent and sometimes violent political turmoil for nearly a decade, with bitter divisions intensifying in the years following the 2006 ousting of Yingluck's brother, then-prime minister Thaksin Shinawatra, by pro-royalist generals.
– Racked by protests –
In the past seven months the country has been racked by protests against the government led by his sister that have left 28 people dead and hundreds wounded.
She was ousted by a court ruling before the coup, but her government remained in place till last week.
Thaksin — in exile since 2008 — and his allies have won every election this century, thanks to their strong support base among the working class and communities in the north and northeast.
But he is reviled by parts of the elite, the Bangkok middle class and southerners — an alliance with wide influence in the establishment and army but little electoral success.
Washington, long a key ally, has led international condemnation of the coup.
It has suspended $3.5 million in military assistance, cancelled official visits and army exercises and said its remaining Thai aid budget was under question.
"We are increasingly concerned about actions the military has taken," State Department spokeswoman Marie Harf said Saturday, pointing to the dissolution of the Senate, arrests and media restrictions.
"We again call on the military to release those detained for political reasons, end restrictions on the media and move to restore civilian rule and democracy through elections."
The military said Saturday that Prayut had sent a letter about his takeover to the country's revered but ailing king, Bhumibol Adulyadej.
The monarch, 86, commands great respect among his subjects, and his blessing is traditionally sought to legitimise Thailand's recurring military takeovers.
The army said the king had "acknowledged" Prayut's letter but stopped short of describing the response as an endorsement.
The powerful military has repeatedly intervened in politics, with 19 actual or attempted coups since 1932.