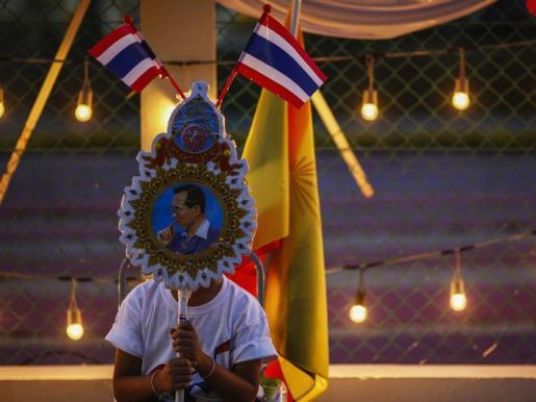 Thailand's coup leader received royal endorsement to lead the politically divided kingdom Monday and quickly threatened to crack down on any further agitation after a weekend of angry protests.
The palace officially appointed army chief Prayut Chan-O-Cha as leader of a military junta that has deposed the government and assumed extensive powers in the Southeast Asian nation of 67 million.
"To restore peace and order in the country and for the sake of unity, the king appointed General Prayut Chan-O-Cha as head of the National Council of Peace and Order to run the country," according to a royal command, referring to the military council set up as the country's all-powerful ruling force.
The constitutional monarchy headed by King Bhumibol Adulyadej, 86, commands great respect among many Thais and the king's blessing has traditionally been a key step in legitimising the country's recurring military takeovers.
The latest coup has triggered a small but growing backlash on the streets, with more than 1,000 anti-coup demonstrators marching through Bangkok on Sunday.
Dozens of protesters faced off against lines of armed soldiers. Scuffles broke out and at least two demonstrators were taken away by troops, one bleeding.
Shortly after getting the royal nod, Prayut, 60, held his first press conference as junta head and threatened to "intensify law enforcement" against anti-coup protesters who have pledged to rally in Bangkok again on Monday.
He also warned that demonstrators could be tried in tough military courts.
Former PM's fate still unclear
The junta has detained former premier Yingluck Shinawatra along with about 200 ousted government leaders, political figures, critics and academics in a sweeping roundup since the coup, which has drawn sharp international criticism.
An army commander on Monday indicated Yingluck remained under military control, but declined to reveal her whereabouts.
"We are taking care of her. She is fine. She can choose to stay wherever she wants," Lieutenant General Thirachai Nakwanich, central region army commander, told AFP when asked of Yingluck's fate.
"Her living conditions are fine."
Yingluck was ousted by a court ruling earlier this month, but her embattled government had remained in place until last week under a caretaker premier.
In one of the first legal steps taken against a prominent detainee since the coup, the attorney general's office granted bail to Suthep Thaugsuban, a firebrand leader of nearly seven months of anti-government protests, over an insurrection charge, according to one of his lawyers.
He was still to face court on Monday on a separate outstanding murder charge linked to a bloody military crackdown on opposition protests against a previous government in 2010.
Under the junta, civil liberties have been curbed, media restrictions imposed and most of the constitution abrogated. Prayut also has assumed all authority for making laws.
The political turmoil centres on the divisive figure of Thaksin Shinawatra, Yingluck's elder brother who was deposed as prime minister by royalist generals in a 2006 coup and now lives in self-exile to avoid prison for a corruption conviction.
His foes in the military-backed royalist establishment want to eradicate the influence of the former billionaire telecoms tycoon turned politician.
Thaksin or his allies have won a string of election victories, with strong support from the working class and rural communities in the north and northeast.
But he is reviled among the royalist elite, Bangkok middle class and southerners who see him as a populist threat to the monarchy.
Thaksin on Sunday posted his first public messages on Twitter since the coup, saying he was "saddened" and urging the junta to "abide by international law and respect human rights".
The political upheaval comes at a time of anxiety about the health of King Bhumibol, who has suffered from a range of ailments.
Some experts believe that a struggle is unfolding to decide who will run the country when the revered monarch's more than six-decade reign eventually ends.
The junta said Sunday that from now on any cases under the kingdom's strict royal defamation laws would be tried in military courts — which limit the scope for defence.
Rights campaigners say the lese majeste rules — which ban any criticism of the monarchy — have increasingly been used to silence dissent.