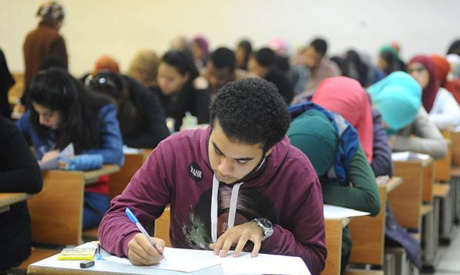 Egypt's Education Minister Tarek Shawky announced on Tuesday that the traditional Thanaweya Amma high school system will be replaced by a new regime as of the academic year 2018-19.
The new education system will drift away from traditional exams and their scoring systems to a new Grade Point Average (GPA) framework based on coursework and electronically-graded multiple choice exams, the minister said, adding that students' evaluation will not only be based on their final exam grades.
"Your children are not lab rats. The secondary stage boogeyman is finished," Shawky said at the press conference.
The minister added that the new system aims to reduce the importance of rote memorization for final examinations.
Shawky also announced on Tuesday the cancellation of the Primary Education Certificate, as part of his plan to reform the nation's education system, considering the 6th Grade of primary school as a normal school year, and cancelling the certificate that is normally gained at that stage.
The new system will promote students to middle school based on their overall performance, rather than their final exam results alone.
Moreover, he discussed the ministry's program to establish special schools for over-achievers, and ways for national schools to include partnerships with the private sector.
Shawky was the director of UNESCO's Regional Bureau for Science in Arab States from 2008 to 2012. In 2012, he became the dean of the School of Sciences and Engineering at the American University in Cairo.