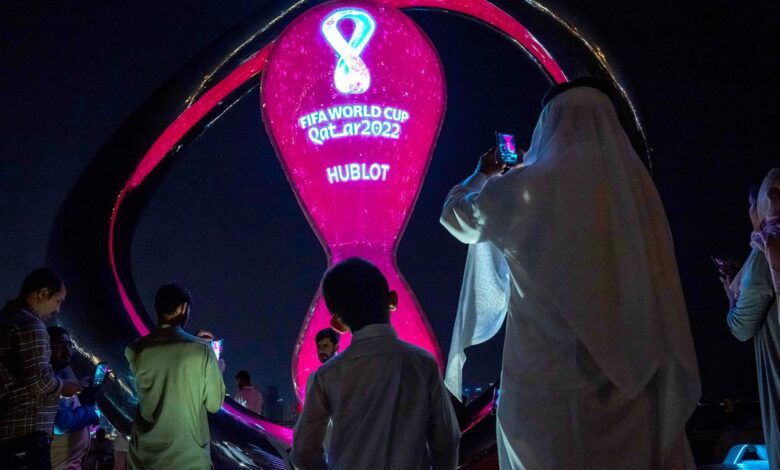 Doha
CNN
 —  Qatar is unrecognizable from the country it was 12 years ago when it
won its bid
to host the 2022 FIFA
World Cup
. Around $220 billion has been pumped into building an entirely new city, a state-of-the-art metro system and hundreds of new hotel and apartment buildings.
Like previous countries to host major events, Qatar has been under the watchful eye of the international community. At the same time, its own people have been exposed to international ideals as well as shifting cultural and societal norms as they anticipated the influx of over a million football fans to their tiny country.
"Qatar changed a lot in the past 12 years and, culturally speaking, this has made a huge impact," 30-year-old Qatari football fan Ali Adnan Abel told CNN. "We have seen more diversity that has made Qataris realize it's time to let the shields down."
In hosting the World Cup, Qatar has been under intense pressure to enact legal changes. It dismantled the controversial Kafala system, a long-established regional labor practice that gives companies and the minority citizen population control over migrant workers' employment, movement, and immigration status.
"What we've seen in this case is, certainly there was no attention whatsoever internationally or even on a national level to the treatment of migrant workers in Qatar and that certainly did change after Qatar won the ability to host the World Cup," James Lynch, director of the human rights group FairSquare and a former British diplomat in Doha, told CNN on Saturday.
But questions remain as to whether the reforms will stick once the tournament is over and the world's gaze shifts away from the Gulf nation.
The Qatari organizers of the event insist those changes are here to stay.
"All of this is actually part of the vision that we have for 2030 and it is one of the pillars of that vision," Fatma Al Nuaimi, a spokesperson for the organizers, Qatar's Supreme Committee, told CNN's Becky Anderson, referring to the government's blueprint for its future.
Qatar, a deeply conservative Muslim country, relaxed alcohol laws in the lead-up, allowing fans to drink in specific zones even though being drunk in public is illegal – although just two days before kick-off, FIFA announced that no alcohol would be sold at stadiums.
The tournament has also given the opportunity for men and women to mingle in an otherwise segregated country. Women and children have had a strong presence in fan zones and stadiums , watching the games in what has traditionally been a male-dominated sphere.
However, history shows that it is uncommon for large sporting events like the World Cup or the Olympics to be long-term catalysts for societal change. Russia infamously hosted the World Cup in 2018 and sought to project an image of tolerance by allowing fans to carry rainbow flags despite a yearslong crackdown on the LGBTQ community.
But Russian President Vladimir Putin has since shunned liberalism, as tensions with the West spiraled, and after invading Ukraine earlier this year, Moscow came down hardon any subsequent anti-war protests. And just last week, the lower house of the country's parliament passed an amendment to its "LGBT propaganda" law, banning all Russians from promoting or "praising" homosexual relationships or publicly suggesting that they are normal.
On the other hand, studies have shown that the international perception of Germany was enhanced after it hosted the 2006 World Cup, and much of the sporting infrastructure put in place is still in use.
"For there to be a positive legacy, this change has to keep on going," said Thomas Ross Griffin, an assistant professor of American and postcolonial literature at Qatar University. "And what the history of tournaments in London, Brazil, Russia told us, is that change often ends once the final whistle is blown. It's on Qatar to demonstrate to the world that their change is something that would be kept going beyond the final game of the tournament."
While changes have been made to Qatar's labor laws, human rights groups say more needs to be done. Just one month before the World Cup began, Amnesty International said the 2020 labor reforms had not been implemented or enforced properly. Qatar, it said, continues to lack freedom of expression and association and discriminates against women and LGBTQ people in law.
"Now, the question is if [this reform] wasn't implemented properly before the World Cup with the eyes of the world on Qatar, what are the prospects after the World Cup that's the big concern," Lynch said.
While some have called for a boycott of Qatar for its treatment of LGBTQ people, others have argued that going to Doha and showing solidarity with the LGBTQ community there can affect lasting change. Spain's openly gay sports minister, Miquel Iceta, said Thursday that hosting the World Cup will mean long-lasting improvement in Qatar's human rights record by bolstering freedom and tolerance in the country.
Jakob Jensen, the Danish football association chief commended the changes that have taken place in Qatar since 2010 in an interview with CNN's Becky Anderson Thursday. "We do not believe in boycotting. We do believe you make a difference participating, discussing, engaging and dialogue," he said.
Others however see Qatar hosting the event as a slap in the face for human rights activists. At FIFA's 72nd annual Congress in April, the Norwegian football association President Lise Klaveness delivered a stinging speech that labeled the decision to award Qatar the tournament as "unacceptable" and demanded that FIFA do more to defend its principles.
It will likely take months and even years before the true extent of the World Cup's influence on the tiny Gulf state is known, says Lynch.
"I think there will be an expectation that there will be comparable scrutiny for future major projects, and I think that's a good thing," he said. "Whether it leads to whole-scale reform, I think that's a bigger question and I think we'll have to wait to see."