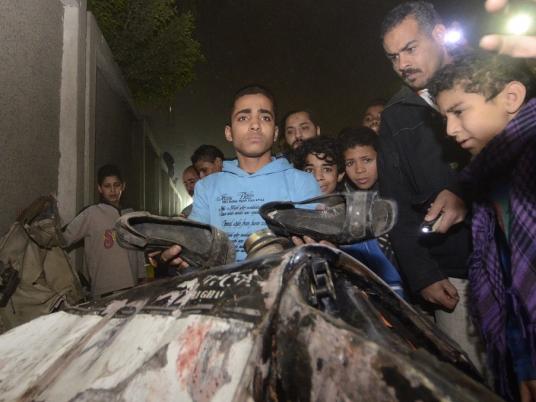 Grief is a prominent press theme Thursday following the deaths that resulted from a train taxi-collision in Giza and two building collapses in Alexandria and Mansoura Wednesday.
"Calamities besiege Qandil's government," writes state-run Al-Akhbar, referring to Prime Minister Hesham Qandil's Cabinet. The paper reports that at least 25 people died in the Alexandria collapse while a similar incident in Mansoura killed a mother and her infant. Four people were also killed when a taxi driver drove across railway tracks in Ard al-Lewa and was hit by an oncoming train.
Spokesperson Yasser Ali offered condolences to the families on behalf of the president.
Privately owned daily Al-Shorouk reports on the funerals of Central Security conscripts killed in another deadly train crash Monday. The victims' bodies were returned to Upper Egypt for the burials, which the paper notes were not attended by government officials.
The South Giza Prosecution has formed a technical committee to investigate the reasons behind the crash. Also involved in the investigation are Assiut prosecutors, who temporarily released on Wednesday railway authorities detained for questioning, Al-Shorouk reports.
An official source reportedly told Al-Shorouk that two men, a young girl and a woman were killed in Imbaba in the taxi-train crash. The taxi driver reportedly escaped before the collision, in which his car was completely destroyed.
Freedom and Justice, the Muslim Brotherhood mouth piece, mourns all the recent deaths with a black logo and the headline "Grief envelops Alexandria." It also claims railway crossings have not been updated since British occupation.
Housing and Transportation Minister Tareq Wafiq tells the paper that hundreds of thousands of buildings constructed over the past four years do not have the proper permits. Alexandria alone is home to 14,500 illegal buildings, according to Wafiq, including the apartment building that collapsed Wednesday.
Regarding outcry over anti-Semitic statements President Mohamed Morsy made in 2010, Al-Akhbar quotes the president as saying his words were "taken out of context." Morsy came under criticism from the US following a New York Times story revealing video footage of him urging Egyptians to "nurse our children and grandchildren on hatred" for Jews and Zionists. On Wednesday, he asserted his respect for all Abrahamic relations and freedom of belief during a meeting with a US Senate delegation. He also stressed the importance of differentiating between Judaism and Israel's violence against Palestinians.
"Morsy to McCain: My statement against Israel was truncated," writes Al-Shorouk. Morsy stated that the footage of him saying Jews are the grandchildren of pigs and monkeys was "misquoted" and taken out of the context at the time of Israel's military campaign in Gaza. US Senator John McCain, who is leading the delegation visiting Cairo, reportedly expressed his disapproval of the statement.
The two leaders also reportedly discussed US aid to Egypt, with McCain pledging to mobilize US$189 million as part of an assistance package that was halted by Congress in response to political developments in Egypt. The Republican senator also told Morsy the finalization of an anticipated IMF loan to Egypt is essential to bringing US investments into the country. Improving Sinai security and halting weapon smuggling are also key factors in securing additional aid, Al-Shorouk reported McCain as saying.
Egypt's papers:
Al-Ahram: Daily, state-run, largest distribution in Egypt
Al-Akhbar: Daily, state-run, second to Al-Ahram in institutional size
Al-Gomhurriya: Daily, state-run
Rose al-Youssef: Daily, state-run
Al-Dostour: Daily, privately owned
Al-Shorouk: Daily, privately owned
Al-Watan: Daily, privately owned
Al-Wafd: Daily, published by the liberal Wafd Party
Youm7: Daily, privately owned
Al-Tahrir: Daily, privately owned
Al-Sabah: Daily, privately owned
Freedom and Justice: Daily, published by the Muslim Brotherhood's Freedom and Justice Party
Sawt al-Umma: Weekly, privately owned
Al-Arabi: Weekly, published by the Nasserist Party
Al-Nour: Official paper of the Salafi Nour Party