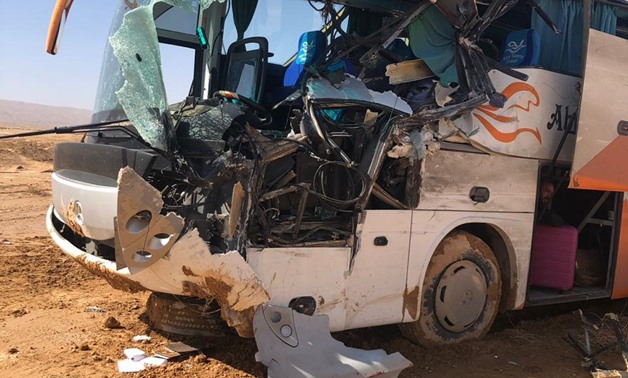 Six people were killed and 24 were injured on Saturday when two buses collided with a truck on the Sokhna – Zafarana road in Suez governorate.
Ambulances rushed to transport the injured to the Health Insurance Hospital in the Hawd al-Dars area, while the dead were transferred to the morgue.
The hospital announced that some of the injured were in critical condition, while others sustained fractures, bruises and various wounds.
According to security sources, among the 24 injured are foreigners of Indian and Malaysian nationalities, while one of the deceased was an Egyptian guard. The sources added that the tourist buses were on their way to Hurghada, with the accident occurring a few kilometers before the Zafarana area.
The Suez Security Directorate was informed of the incident, while the Criminal Investigation Department moved to the scene to determine its cause.
The Public Prosecution took up investigating the accident and formed a task force to hear statements from the injured and eyewitnesses.
Civil protection and traffic agents moved to the scene to clear the roads and prevent traffic obstruction.
Egypt has a road traffic fatality rate of 42 deaths per 100,000 people, according to the World Health Organization. The majority (48 percent) of those killed are passengers of four-wheeled automobiles, although pedestrians also constitute a significant proportion (20 percent) of these fatalities.
Egypt's Central Agency for Public Mobilization and Statistics (CAPMAS) said in a report earlier this year that car accidents have declined by 23.6 percent, recording 8,480 accidents in 2018 compared to 11,089 accidents in 2017.
CAPMAS added that accidents in 2018 left 3,087 people dead, 11,803 injured and 13,441 vehicles damaged.
The human element was the main cause of accidents, accounting for 76.8 percent of total accidents in 2018, followed by vehicles accounting for 15.7 percent and the environmental element accounting for 2.7 percent.
Edited translation from Al-Masry Al-Youm