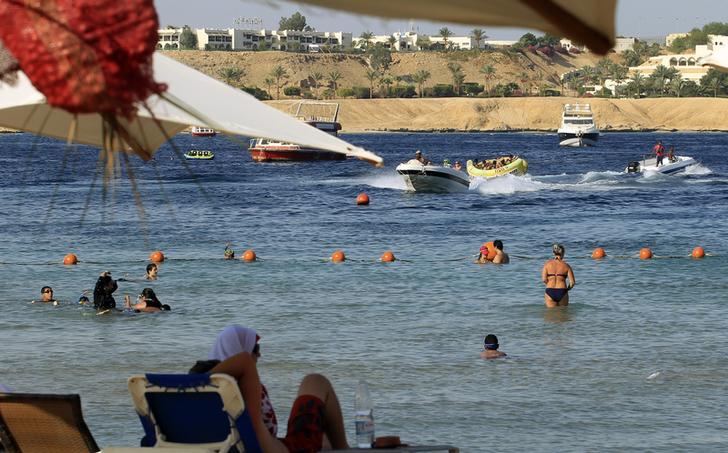 Navigation sources at the Hurghada International Airport confirmed that on Wednesday tourists from Belarus, Latvia, Ukraine, and a number of other countries are set to leave the Red Sea resorts and return home.
Tourism sources have estimated that the total number of tourists who departed the Red Sea since last week number at roughly 70,000, following Egypt's decision to suspend receiving international flights.
In a press statement, Red Sea Governor Amr Hanafy stated that the last tourist will leave the Red Sea on April 1.

Dozens of hotels and resorts in Hurghada continued announcing that they are void of tourists, as Europeans head back home at the end of their vacations.
And many resort and hotel owners in Hurghada and Marsa Alam have had to shut down after disinfecting due to a lack of customers. Hotel and resort workers have been placed in quarantine for 14 days before being allowed them to return home.
The Hurghada International Airport had received about 200 empty flights since last Thursday, following the Civil Aviation Ministry's decision to suspend international flights.
These empty planes returned tourists to their countries after the end of their vacations, with the majority being German and English tourists.
The Egyptian Tourism Federation has moved to reduce the daily presence of workers in Cairo and Giza hotels by 50 percent and is committed to continue paying salaries to all workers throughout the coronavirus outbreak.
The Ministry of Tourism and Antiquities announced that all museums and archaeological sites in Egypt will be closed from March 23 until March 31.
A statement by the ministry said that this decision is part of precautionary and preventive measures to counter the novel coronavirus. During this suspension period, the statement added that awareness sessions will be held for museum and sites workers on ways to prevent and protect against the virus.