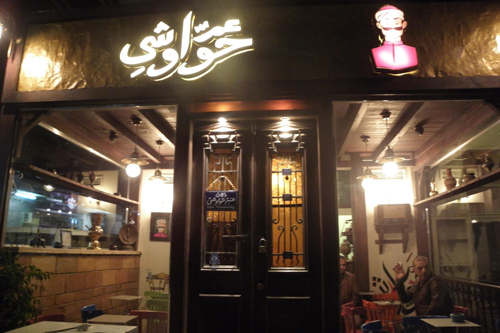 In a little alley off of Shagaret al-Dor Street in Zamalek, a new hawawshy chain has just opened its first branch: 3am Hawawshy. The chain is geared toward delivery and takeout for these grilled meat sandwiches, rather than a full dining experience, but, being nearby, we decided to check it out and dine in.
The restaurant is minimally decorated, like a slightly fancy coffee shop, with randomly placed chairs and small, tall, silver tables. It is hidden in the shadows behind the constantly busy Lido club burger joint, which also recently opened.
Visiting the new Zamalek branch is slightly awkward, as the staff seem better trained to use the telephone for deliveries rather than serve in-house guests, but nonetheless, the venue — dark wood adorned with all kinds of Egyptian trinkets and antiques — is not without a simple charm
As could be predicted, the small menu revolves around hawawshy — beef, chicken or cheese — with a few sides, such as fries, tahina or green salad. Personally, despite being familiar with Cairo for quite a while, I wouldn't really know where to go to get "good" hawawshy, and can't really remember the last time I ate it, so there was a little bit of novelty in finding a service that claims itself to be one of the best.
We ordered one large beef hawawshy with romy cheese, one mixed cheese hawawshy, and homemade chips, tahina and salad. We also ordered a kofta sandwich, which is the only other main meal available.
The restaurant also offers combos. A large meat hawawshy with fries and a drink costs about LE30, while a small costs about LE20.
We were completely unsure about what the food was going to be like, or how it was going to fit on the small table, until it arrived. Once the food arrived on a large tray that sat comfortably on the small table, everything immediately looked delicious and the concept of the place began to make sense.
The hawawshies were beautifully flavored and very rich in spices, but also felt very light on the stomach. The kofta was similar in texture to the beef hawawshy, but seemed a bit thicker and was cooked with different spices. The homemade fries were more like thick potato chips, but lovely and crunchy.
Surprisingly, the worst item was actually the salad, which seemed a bit old — from the morning — and wet.
We were both extremely satisfied with the meal and the place by the end of the experience. The staff were also exceptionally nice — after making a comment that the bread was particularly excellent, the owner brought us a bag full of amazing, locally made bread to take home for free.
However, despite previous comments about the food being very light, I certainly ate too much during this "tasting." There were a couple of desserts, such as Om Ali and sweet pumpkin, but we were too full by the end of the meal to try them.
If I were to eat there again, a small combo would certainly suffice. And despite the friendly staff and cute venue, I imagine I would order delivery services from 3am Hawawshy in the future.
The chain is obviously intended to be a way for people to order great hawawshy to their doorstep. I may not be a hawawshy connoisseur, but what they sell tastes great and is definitely worth trying.
3am Hawawshy delivers to Mohandiseen, Dokki, Zamalek and Agouza, and is opening up a second branch in Maadi this month.
3am Hawawshy; Address: 32 Shagaret al-Dor St., Zamalek; Tel.: 19534; Hours: 10:30 am to 2 am.
This piece was originally published in Egypt Independent's weekly print edition.