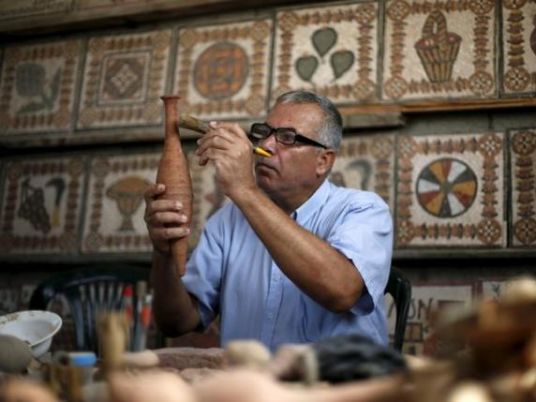 Nafez Abed's cramped workroom is filled with sculptures and mosaics with patterns from the Byzantine, Greek and Roman periods. It is an emporium of Middle Eastern antiquity tucked away in Gaza. And none of it is real.
Abed, 55, is a self-taught archaeologist, preserver and restorer who crafts reproductions of ancient pieces he finds or has seen in museums. He gives his work so much authenticity that international experts have been wowed by his skills.
A fair-haired, intense man, he spends almost all his time in his studio, built on the roof of his unfinished house in a refugee camp in northern Gaza. Its windows are covered in plastic to keep out the rain that blows in from the nearby Mediterranean.
"The Museum of Mosaics" is written on the wooden door that leads into his workroom. On a large table in the middle of the dark room stands a reproduction of a statue of Alexander the Great, looking as if it truly dated from 300 BC, amid oil-fired lamps and copies of coins dating back more than 2,500 years.
"My fixation with archaeology runs in my veins," said the father of seven, who trained as a blacksmith before deciding 30 years ago to dedicate himself to a more refined art.
"I spend more than 10 hours a day here, sitting among my works and reproductions," he said with a sense of wistfulness. His room was lit by one small lamp, plugged into an extension cable that stretches from the floor below.
It was Abed's father who got him started, imbuing him with a love of antiquity and the rich ancient history of Gaza, where the blinded Biblical hero Samson lived.
Over the millennia, Gaza has served as a trading port for ancient Egyptians, Philistines, Romans and Crusaders. Beneath its sands lie ruins from Alexander the Great's siege of the city, Emperor Hadrian's visit, Mongol raids and the arrival of the Islamic armies 1,400 years ago.
Napoleon and the Ottomans camped here and British armies passed through in World War One.
Abed frequently tours Gaza's beaches looking for ancient remains. Sometimes he restores pieces he finds and other times he uses the clay in a reproduction, treating the material in such a way that it looks to be centuries old.
Via extensive reading on archaeology in Arabic and English, he has developed a range of techniques for restoration and aging. To a visitor's eye, everything looks ancient.
"Some clients, some visitors, including scientists who have visited me, thought some of the pieces were real before I told them they were imitations made by own hand," he said.
Museum quality
As his skills grew, he gained wider acclaim. By presidential decree, he was appointed deputy director of rehabilitation at the Palestinian Ministry of Archaeology in 1995 and he has also been in charge of the mosaic department.
He has traveled to Jericho and Jenin in the West Bank to work with Italian and Dutch experts on archaeological sites there, and made trips to the Louvre in Paris and museums in Arles and Geneva to help with restorations.
In 2005, the head of the Geneva museum visited Gaza with his wife and talked at length with Abed about his skills.
"He offered me a job at the museum, but I turned it down," said Abed, making clear his regret. "It was a mistake."
In 2007, the Islamist group Hamas seized control of Gaza. Since then, traveling abroad has become much harder and life inside the territory has grown tougher, with restrictions on the import of goods and a series of short wars with Israel.
In his studio, Abed works intensely on a range of mosaics. One depicts a beautiful woman riding a charging bull, a copy of an original based in Naples, Italy.
Another set of seven mosaics show the ancient gates to Palestine and there are also reproductions of pieces he has seen while visiting the Netherlands and France.
Most Gazans cannot afford his works, but Abed has a few local clients, including hotel owners and other wealthy people who want to decorate their homes with ancient-looking artifacts. While that is something, business is not as it once was.
"I used to be visited by foreigners, by consuls and ambassadors, by international businessmen and tourists," said Abed. "There are no foreigners nowadays. The situation got bad."