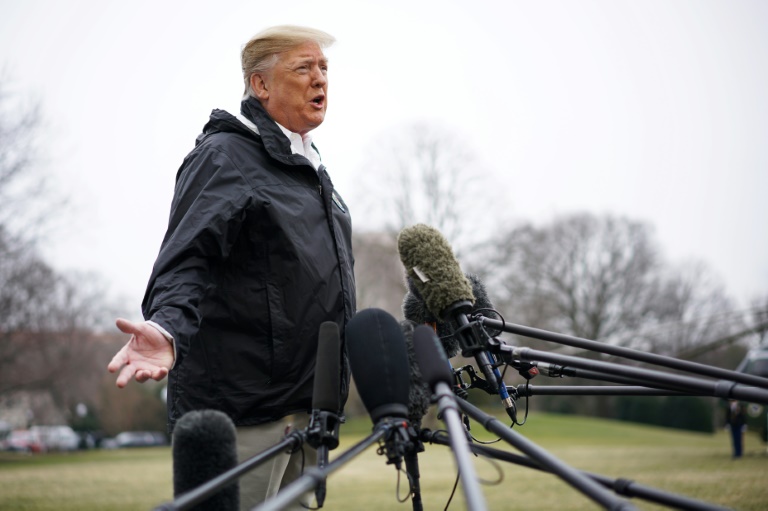 US President Donald Trump declared a victory on Friday in the Russia collusion investigation after his former campaign chief received an unexpectedly light sentence in a high-profile case brought by Special Counsel Robert Mueller.
"Both the Judge and the lawyer in the Paul Manafort case stated loudly and for the world to hear that there was NO COLLUSION with Russia," Trump tweeted.
Judge T.S. Ellis did not actually say that and neither did the lawyer for Manafort, a veteran Republican political consultant who was convicted of tax crimes and bank fraud unrelated to his work for the Trump campaign.
What the judge said before sentencing Manafort to nearly four years in prison on Thursday was that he was "not before the court for any allegations that he or anybody under his direction colluded with the Russian government to influence the 2016 election."
Following the sentencing, Manafort's lawyer, Kevin Downing, said there was "absolutely no evidence that Paul Manafort was involved with any collusion with any government official from Russia."
But he did not address the wider question of whether other members of Trump's election team may have been involved with Russia.
That is the subject of the investigation by Mueller, a former FBI director who has filed charges so far against six of Trump's former associates.
Trump later told reporters he "feels very badly for Paul Manafort." "I think it has been a very tough time for him," he said.
Manafort, 69, appeared at his sentencing in a wheelchair, wearing a green prison jumpsuit and looking haggard, his once jet black hair now flecked with gray.
Trump's remarks on Manafort contrasted sharply with what he had to say on Friday about his former personal attorney Michael Cohen, who has denounced his longtime boss as a racist, a conman and a cheat.
'So bad for our country!'
"Bad lawyer and fraudster Michael Cohen said under sworn testimony that he never asked for a Pardon," Trump said on Twitter. "He lied!"
"He directly asked me for a pardon," Trump said. "I said NO."
While Cohen has turned against Trump, Manafort has been uncooperative with Mueller, according to the Special Counsel's office, giving rise to speculation he is hoping for a pardon from the president.
Manafort entered into a cooperation agreement with Mueller but the Special Counsel's office said he had breached the deal by lying repeatedly and not providing any valuable information.
Trump has repeatedly denounced the Mueller probe as a "political witch hunt" and he condemned it as a "hoax" Friday that was "so bad for our Country!"
Manafort, who headed Trump's presidential campaign for two months in 2016, was jailed for hiding from US tax authorities $55 million in payments he received from Ukrainian politicians for consulting work.
Manafort could have faced up to 24 years in jail, but Judge Ellis said he found that "excessive" and sentenced him to 47 months with nine months of credit for time served.
Prosecutors from the Special Counsel's office had argued for a stiff prison term for Manafort, the first target of the Mueller probe to be convicted in a criminal trial.
'Lenient'
Democratic lawmakers denounced the sentence as being too light.
Adam Schiff, the Democratic chairman of the House Intelligence Committee, described Downing's remarks as a "deliberate appeal for a pardon" from Trump.
"The statement by Paul Manafort's lawyers after an already lenient sentence — repeating the President's mantra of no collusion — was no accident," Schiff said. "One injustice must not follow another."
Eric Holder, who served as attorney general under president Barack Obama, also criticized the sentence.
"Manafort sentence too low," Holder tweeted. "Judge incomprehensible. 7-8 years more fitting."
Manafort still faces sentencing in a separate case in Washington next week, where he has admitted two counts of conspiracy and is looking at a maximum of 10 years in a court seen as more sympathetic to prosecutors.
Judge Amy Berman Jackson can decide to impose a prison sentence which runs concurrently with Manafort's current sentence or one that is added to his 47-month jail term.
Manafort is one of six former Trump associates who face charges or have pleaded guilty to charges stemming from the Mueller investigation.
Cohen is to begin serving a three-year prison sentence on May 6 for fraud, tax evasion, illegal campaign contributions and lying to Congress.
Manafort's former deputy Rick Gates reached a plea deal with the special counsel's office and is awaiting sentencing.
Former National Security Advisor Michael Flynn admitted lying to the FBI about his contacts with Russian officials and is also awaiting sentencing.
George Papadopoulos, a foreign policy advisor to the Trump campaign, pleaded guilty to lying to the FBI and spent 12 days in prison.
Another Trump advisor, Roger Stone, awaits trial.