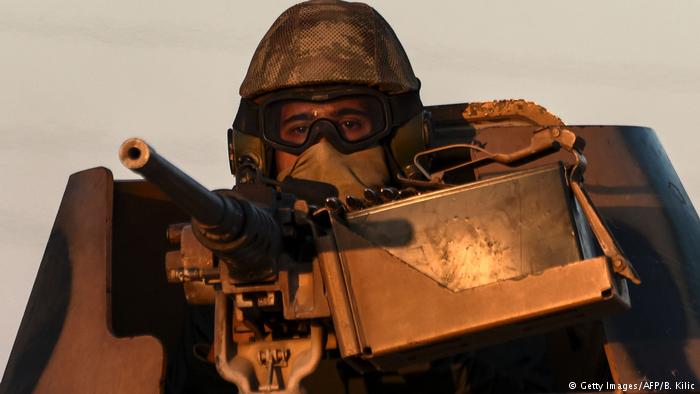 Turkish forces exchanged fire with Tahrir al-Sham, a Syrian jihadist alliance, near Kafr Lusin on the border between Turkey and Syria's Idlib province, the Syrian Observatory for Human Rights said on Sunday.
The Observatory is a Britain-based war monitor.
On Saturday Turkish President Tayyip Erdogan said Syrian rebels backed by Turkish forces would launch an operation in that area, which is mostly controlled by Tahrir al-Sham.
Rebel groups taking part in the operation said on Saturday they expected it to start very soon, while Tahrir al-Sham said any incursion into Idlib would "not be a picnic" for its enemies.
Tahrir al-Sham is spearheaded by the former Nusra Front, which was al Qaeda's Syrian branch until last year, when it changed its name and broke formal allegiance to the global movement founded by Osama bin Laden.
It has been a formidable military force since early in the conflict, often fighting alongside other rebel groups, but since early this year it has battled them as it tried to gain control over areas including Idlib.
Idlib and neighboring parts of northwest Syria represent the biggest and most populous rebel stronghold, home to more than two million people, many of them refugees from other areas of the country.
Turkey has been one of the biggest supporters of rebels fighting Syrian President Bashar al-Assad during the six-and-a-half-year war, but its focus has moved from ousting him to securing its border.
The incursion follows a deal between Turkey and Assad's allies Russia and Iran to impose a "de-escalation" zone in Idlib and surrounding areas to reduce warfare there, an agreement that did not include Tahrir al-Sham.